The WPHP Monthly Mercury is the podcast of the Women's Print History Project. Inspired by the titles of periodicals of the long eighteenth century, this podcast dives into the gritty and gorgeous details of investigating women's work as authors and labourers in the book trades. Below you will find a list, in reverse chronological order, of episodes, with brief descriptions of each, and links to fuller descriptions and the podcast episodes themselves. You can access our more recent podcast episodes and related blog posts in the "Podcast" menu header, above.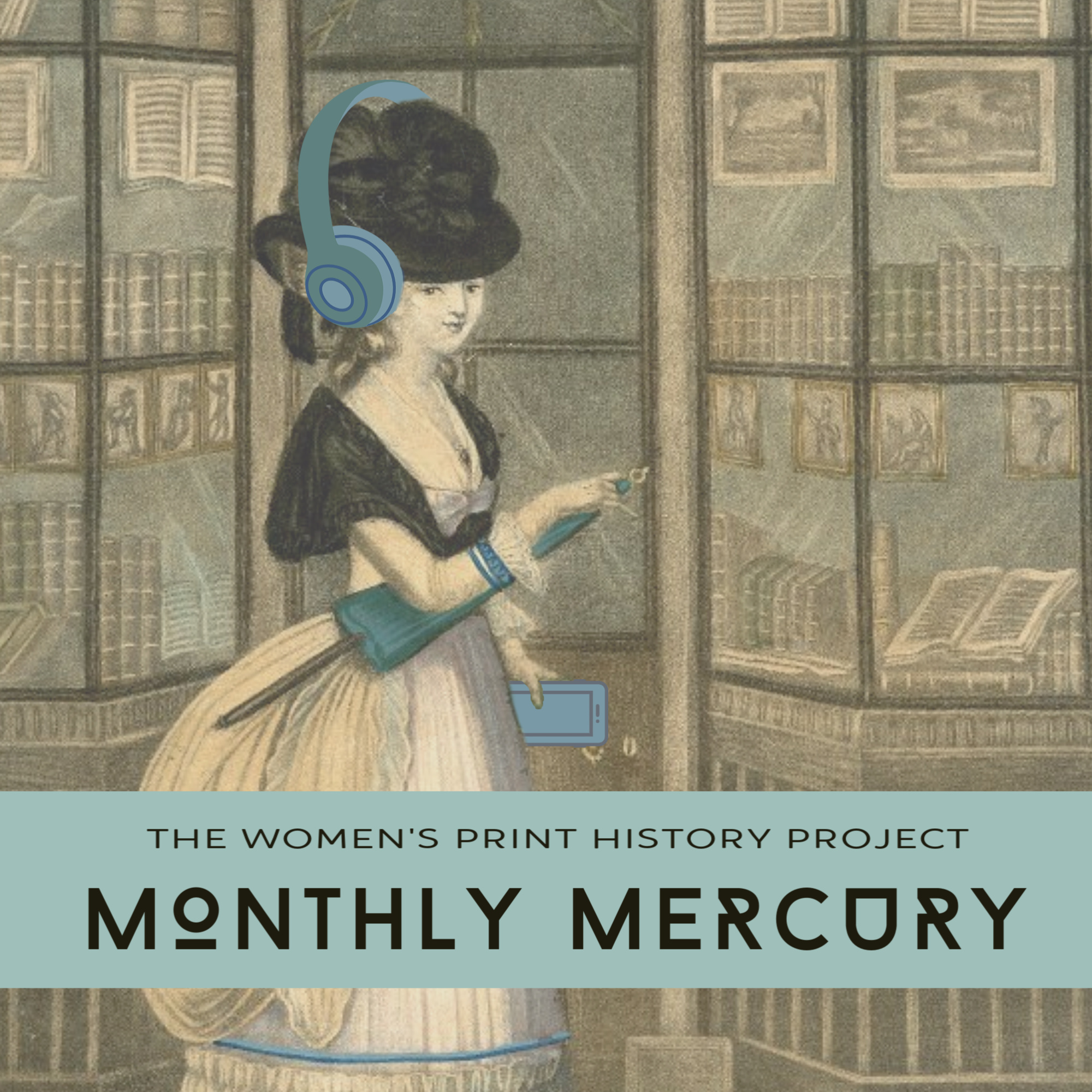 Season Two:
Episode 10: The Queen of the Disciplines (March 30, 2022)
Throughout the month of March, the WPHP has been posting Spotlights about women philosophers in print in the WPHP as part of our Women & Philosophy Spotlight Series to celebrate Women's History Month. Contributors to the series include research assistants Angela Wachowich, Belle Eist, Isabelle Burrows, Tammy T., and project director Michelle Levy, who wrote about the anonymous 'Sophia, a Person of Quality,' Margaret Cavendish, Harriet Martineau, Anna Letitia Barbauld, and Ann Williams.
Finding women philosophers in the WPHP is not necessarily a straightforward task: we don't include philosophy as a genre, as research assistant Angela Wachowich, organizer of the Series, discovered during some of her work on early feminist writing last year. Turning to Lisa Shapiro's New Narratives Bibliography of Works by Women Philosophers of the Past, Angela identified a number of women philosophers who we do, indeed, have in the WPHP—but that she had to use the New Narratives Bibliography to find them illustrates how the WPHP data model does not (and cannot) render visible every genre. It also, however, demonstrates how digital humanities projects from different disciplines can speak to each other.
And that is precisely what we did for this month's episode: we invited Lisa Shapiro, director of the Extending New Narratives Partnership Project, to chat with us about women philosophers, the difficulty of genre, the narratives in entrenched canons (and the cross-disciplinary urge to name a canon), and the importance of discipline-specific recovery efforts.
Episode 9: Transatlantic Trajectories (February 16, 2022)
In July 2020, project lead Michelle Levy and lead editor Kandice Sharren attended a virtual workshop hosted by Amy Tims at the American Antiquarian Society titled "Searching the AAS Catalog: Keyword & Browse." This workshop introduced them to the many specific and useful headings of the American Antiquarian Society catalog, including some that we were particularly excited for given that we see them in resources so rarely: "women as authors" and "women as publishers and printers." In November 2021, the WPHP used these headings to import more than 6000 title records from the American Antiquarian Society. Our thrilling plunge into titles printed in the United States is something we've been anticipating, and started preparing for over the last two years: we added a 'copyright statement' field, for example, so that we could capture the copyright information located on the verso of the title page of many American titles.
While our team of research assistants works diligently to clean up these imported records and make them available to the public, we have been starting to think about what having this data in the WPHP might tell us about the transatlantic reprinting of women's writing during the eighteenth and nineteenth centuries. In the process, we have had to grapple with new questions about how to best represent American titles within our data model. Thankfully, WPHP contributing scholar Dr. Melissa J. Homestead came to our rescue!
In Episode 9, "Transatlantic Trajectories," hosts Kate Moffatt and Kandice Sharren introduce listeners to some of the joys and hiccups of the recent American import by way of a lively chat with Dr. Melissa J. Homestead about women's American and transatlantic publishing. In it, we discuss transatlantic authors Susanna Rowson and Catharine Maria Sedgwick, as well as American copyright and its intricacies during the period, how studying book history in the eighteenth and nineteenth centuries can inform similar research in the twentieth, and the altar of chronology (with a special focus on Willa Cather and Edith Lewis, too!).
Episode 8: Mary Hays, Mapped (January 19, 2022)
In 1803, Mary Hays published the six-volume work Female Biography, a substantial work of scholarship that relied on more than one hundred sources to write biographies about more than 300 hundred women. But how did Hays, a Dissenting writer of moderate means, access all of those books?
To find out, we invited Dr. Timothy Whelan to talk all things Mary Hays, but especially her literary environs, which included relationships with Dissenting booksellers, connections with the Godwin circle, a number of the biggest and most successful circulating libraries of the time, including the Minerva Press and Hookham's, and residences across London that were never more than a five-minute walk from a library or a bookshop. And we meander through London itself, where Dr. Whelan tracked more than just where Hays' likely found her sources for her History: he mapped Hays' residences, the residences of her large extended family, the booksellers and circulating libraries around her locations, Dissenting booksellers, and the chapels of Dissenters in London—a variety of networks that, as it turns out, are far more interwoven than one could have anticipated without the help of Dr. Whelan's seven-by-seven foot map.
Episode 7: The Business of Gossip (December 15, 2021)
In "The Business of Gossip," hosts Kate and Kandice follow the highly successful Henry Colburn, leading publisher of fiction in the early nineteenth century, across his three main business addresses in London—and in so doing, explore how the publisher prompted, encouraged, and engaged with gossip.
The subject of much gossip himself, Colburn's origins are unknown (although rumoured to be noble), his less-savoury business practices are disparaged by his partners (with good reason), and his reputation, even into scholarship until very recently, is extremely poor. Drawing on research from John Sutherland and Veronica Melnyk, this episode explores the timeline of Colburn's 47-year career and how, exactly, certain narratives about him were established, and have since been corrected.
Featuring such authors as Sydney, Lady Morgan, Lady Caroline Lamb, and Letitia Elizabeth Landon, and such publishers and book trades members as Saunders and Otley, and Richard Bentley, we traipse through the landscape of Colburn's publishing practice as it moved through London (and, briefly, Windsor), sharing what each new address wrought or signified for the publisher and what such considerations of business and gossip might tell us about the role of gossip in the book trades more generally.
Episode 6: The Ecology of Databases (November 17, 2021)
Why hasn't the third edition of Hannah More's Coelebs in Search of a Wife been digitized? Why doesn't GoogleBooks group the different volumes of multi-volume works together in a single catalogue record? And, what do authors and pandas have in common? We bemoan the limitations of our various sources on a monthly basis, but this month we're digging into why they exist in the first place—especially why digitization can be so uneven.
In "The Ecology of Databases," co-hosts Kate Moffatt and Kandice Sharren are joined by Lawrence Evalyn to learn more about the issue of uneven digitization. In addition to giving us the hard numbers about which titles appear in the ESTC, ECCO, The Text Creation Partnership, and HathiTrust, Lawrence puts forward his "charismatic megafauna" theory of authorship, shares moon prophecies and invitations to meetings about waterway management, and details the searching strategies he used during the WPHP Summer Readathon.
Episode 5: The Witching Hour (October 20, 2021)
In last October's episode, "Of Monks and Mountains!!!" Kate and Kandice each read a gothic novel found in the WPHP, and it was so much fun that we simply had to do it again. For Season 2, Episode 5, "The Witching Hour", we read books about witches—almost every book that mentions witches in the title in the WPHP, in fact! (There are only five.)
But within that small sample, we found a full spectrum of representations of witches and witchcraft, from the fantastical (and silly) woodland witches in Alethea Lewis's The Nuns of the Desert (1805), to Joanna Baillie's spine-tingling play, Witchcraft (1836), which is set against the backdrop of the Scottish witch hunt—and everything in between.
Join us for the fifth episode of Season 2, "The Witching Hour," to learn more about why we only found five titles, what those titles told us about the role of witchcraft in the eighteenth- and nineteenth-century cultural imagination, and (most importantly) which title we awarded the coveted label of "bonkers." But be warned—recording this episode gave Kate nightmares.
Episode 4: Cheap Thrills (Pay Lemoine's Bills) (September 15, 2021)
In 1794, Ann Lemoine's husband, Henry, who was an author and publisher, went to debtor's prison—this led to their separation, and the following year, Ann Lemoine began her own publishing business in White Rose Court in London. Between 1795 and the early 1820s, it is estimated that Ann Lemoine published, printed, and sold more than 400 titles, and explored new and inventive ways of packaging and reselling the cheap print she was known for publishing: chapbooks.
In this episode, hosts Kate and Kandice are joined by WPHP Research Assistant Sara Penn, who undertook entering the many titles Lemoine produced into the database and has become our resident Lemoine expert. We share some of Sara's conversation with Dr. Roy Bearden-White, explore the history of the chapbook—including the difficulties of defining the term itself—and the significance of cheap print, the challenges of including it in the database, and chat about the labour involved in working with female publishers, printers, or booksellers, or forms of print that are lacking in bibliographical sources.
Episode 3: A Brief Journey through Women's Travel Writing in the Summer of 2021 (August 18, 2021)
Throughout the month of August, we've been sharing Spotlights on the WPHP site as part of the "Around the World with Six Women" Spotlight Series on travel writing. In this month's episode, hosts Kate Moffatt and Kandice Sharren are joined by the authors of the Spotlight Series, who share what they have learned during their vicarious journeys through France, Italy, Germany, India, Chile, Rome, China, the Red Sea, and the Scottish Highlands. Along the route we touch on the stakes of travel writing in the eighteenth and nineteenth centuries, particularly in terms of British imperialism and colonial forces, and how considering these stakes can help us contextualize the genre. Our conversation also prompted us to consider the stakes of our own travel, now that the world is opening up and travel is once again becoming a possibility.
Episode 2: Collected, Catalogued, Counted (July 21, 2021)
In 2016, Dr. Kirstyn Leuner shared data from her project, The Stainforth Library of Women's Writing, with the WPHP—in particular, the Virtual International Authority Files she and her team had attached to their person records. This month, she joins us to chat all things Stainforth, databases, and cataloguing, including the kinds of data her team has been working with and collecting, the project decisions that have had to be made along the way, the hidden and not-so-hidden gems the Stainforth catalogue contains, and the many commonalities our projects share in their efforts to recover women writers of the eighteenth and nineteenth centuries. Stainforth on!
Episode 1: Oh! Those Fashionable Burney Novels! (June 16, 2021)
Welcome back! In the first episode of Season 2 of the WPHP Monthly Mercury, hosts Kate Moffatt and Kandice Sharren delve into the publication history of Frances Burney's first two (and most popular) novels, Evelina (1778) and Cecilia (1782). Although both were regularly reprinted well into the nineteenth century, we recently realized that the WPHP was missing the post-1800 editions of these works (although it did already hold all of the editions of her two far less popular novels, Camilla (1796) and The Wanderer (1814)—thank goodness!). In this episode, we explore why these titles were missing and our subsequent task: creating an as-comprehensive-as-we-can-make-it bibliography of Frances Burney's novels up to 1836.
Season One:
Episode 10.5: Season One in Review (June 14, 2021)
As we get ready to launch the second season later this week, WPHP Primary Investigator Michelle Levy reviews some of the highlights from our first season.
Episode 10: A Brief and Scandalous History of Delarivier Manley (March 17, 2021)
In the final episode of Season One of the WPHP Monthly Mercury, hosts Kate Moffatt and Kandice Sharren celebrate Women's History Month by interviewing Dr. Kate Ozment about the late seventeenth- and early eighteenth-century writer, Delarivier Manley. Famous for her scandalous semi-autobiographical 'secret histories,' which satirized important Whigs in Queen Anne's courts, Manley inspires us to consider the relationship between eighteenth-century women and history, and how they—and we!—capture, create, and record it (and sometimes make things up along the way).
Episode 9: Bluestockings in Print (February 17, 2021)
Hosts Kate Moffatt and Kandice Sharren are joined by Dr. Betty A. Schellenberg, Bluestocking expert, to talk about the learned ladies of the informal eighteenth-century society and their complex relationships with print—along with some musings about puddings, friendships, and dirty laundry. Put on your blue stockings and join us for our penultimate episode of Season 1 of the WPHP Monthly Mercury!
Episode 8: 50 Words for Walking (January 20, 2021)
Ramble. Ambulate. Wander. What are the words you use for walking? In our eighth episode, we're looking to the words that women used to describe walking in print and manuscript during the eighteenth and early-nineteenth centuries, when a surge in pedestrian activity for leisure and pleasure occurred. An interview with guest Dr. Kerri Andrews, author of Wanderers: A History of Women Walking, has us grappling with women's involvement in that pedestrianism surge, and explore how the language they used (in manuscript and in print) illustrates the age-old tradition of women's walking that is so often left out of the history books.
Episode 7: 1816 and 2020: The Years Without Summers (December 16, 2020)
As 2020 draws to a tumultuous close, join hosts Kate Moffatt and Kandice Sharren as they look back—all the way to 1816. Often remembered as the cold and fog-laden year in which an 18-year-old Mary Shelley came up with the idea for Frankenstein, 1816 was a year of catastrophe more generally, known colloquially as "The Year Without a Summer" or "Eighteen Hundred and Froze to Death." This double episode, peer reviewed by Romanticism on the Net, explores how the bibliographical metadata contained in the WPHP can help us uncover a wider range of voices and genres, including political writing, travel memoirs, and poetry. These works reveal the lived experiences of women in a time of upheaval, but also provide an opportunity to meditate on the nature of literary production during catastrophe, especially how our own experiences during the upheavals of 2020 shaped our response to the books that we uncovered.
Episode 6: Mind the (Data) Gaps (November 18, 2020)
Have you ever wondered, "Where does all the WPHP data come from?" Well, look no further than this month's episode of the WPHP Monthly Mercury! From missing Frances Burney and Ann Radcliffe editions to ESTC imprint-specific searches, our sixth episode identifies data gaps and explores our superstar resources, the wide variety of print and digital sources we use, and the data limitations we wrangle on a daily basis while working on the WPHP.
Episode 5: Of Monks and Mountains!!! (October 21, 2020)
What do two of our favourite Gothic titles from the WPHP have in common? Banditti, the name 'Clementina,' and abducted women, for a start! Join hosts Kate and Kandice for this Halloween-themed episode of the WPHP Monthly Mercury as they discuss how you can identify works that align with the 'gothic' mode in the WPHP, chat about little-known women authors, and share their experiences reading two gothic novels: Elisabeth Guenard's The Three Monks!!! and Catherine Cuthbertson's Romance of the Pyrenees (both published in 1803 and both delightfully strange).
Episode 4: A Bibliographical Education (September 16, 2020)
Hosts Kandice Sharren and Kate Moffatt wander through the works categorized generically as "Education" in the WPHP, exploring the genre's variety of formats and styles, as well as its many adjacent genres—not least of which is "Juvenile Literature," which past RA Reese Irwin cheerfully (and almost single-handedly) entered into the database. In this episode, Reese joins us to speak about the process of entering the majority of our 3200+ Juvenile Literature titles, Kate and Kandice perform suitably dramatic readings of excerpts from educational texts from notable eighteenth-century authors, and we speak to the ways in which the many forms teaching has taken this year during COVID-19 echoes eighteenth-century educational practices and their challenges.
Episode 3: Black Women and Female Abolitionists in Print (August 19, 2020)
Hosts Kandice Sharren and Kate Moffatt are joined by the entire WPHP team to speak to the Black Women's and Abolition Print History Spotlight Series that we published between June 19 and July 31. This series was written in response to the Black Lives Matter movement and the protests that erupted across the globe in response to police brutality and the murder of George Floyd on May 25, 2020. Featuring poet Phillis Wheatley, bookseller Ann Sancho, author Mary Prince, abolitionists Elizabeth Heyrick and Lydia Maria Child, orator Maria W. Stewart, and the anonymous novel The Woman of Colour, these spotlights celebrate and make visible Black women's and radical abolitionist history as it appeared in print during the Romantic period. This episode discusses what the common threads and challenges we faced in researching this series can tell us about Black women's lives and the abolitionist movement in the eighteenth and nineteenth centuries.
Episode 2: Women in the Imprints (July 15, 2020)
Follow Kate and Kandice through the labyrinthine labour that goes into discovering female-run firms: the women who were publishers, printers, and booksellers. Starting with the discovery of Ann Sancho, a Black bookseller in London (the only Black woman in the book trades we know of thus far), this episode shares the joys and the frustrations of discovering and recovering the women who worked in the book trades in the eighteenth and nineteenth centuries for the Women's Print History Project.
Episode 1: Jane Austen Adjacent (June 17, 2020)
In this first full-length episode of the WPHP Monthly Mercury, "Jane Austen Adjacent", hosts Kandice Sharren and Kate Moffatt explore Jane Austen's publication history, from unpublished anonymity to well-beloved and canonical, to introduce you to the Women's Print History Project. They share the project's not-so-humble data collection beginnings at Chawton House Library and the types of bibliographic data collected on the database, and explain the role that bibliographic and publication data can play in understanding the eighteenth- and nineteenth-century book trades.
Episode 0.5: Introducing the WPHP Monthly Mercury (June 12, 2020)
The WPHP Monthly Mercury will be released every third Wednesday of the month, starting June 17, 2020, so welcome to our first-ever podcast episode: "Introducing the WPHP Monthly Mercury." Each future episode will have a corresponding blog post that contains further reading, a bibliography, and a full list of all WPHP entries referenced in the episode.