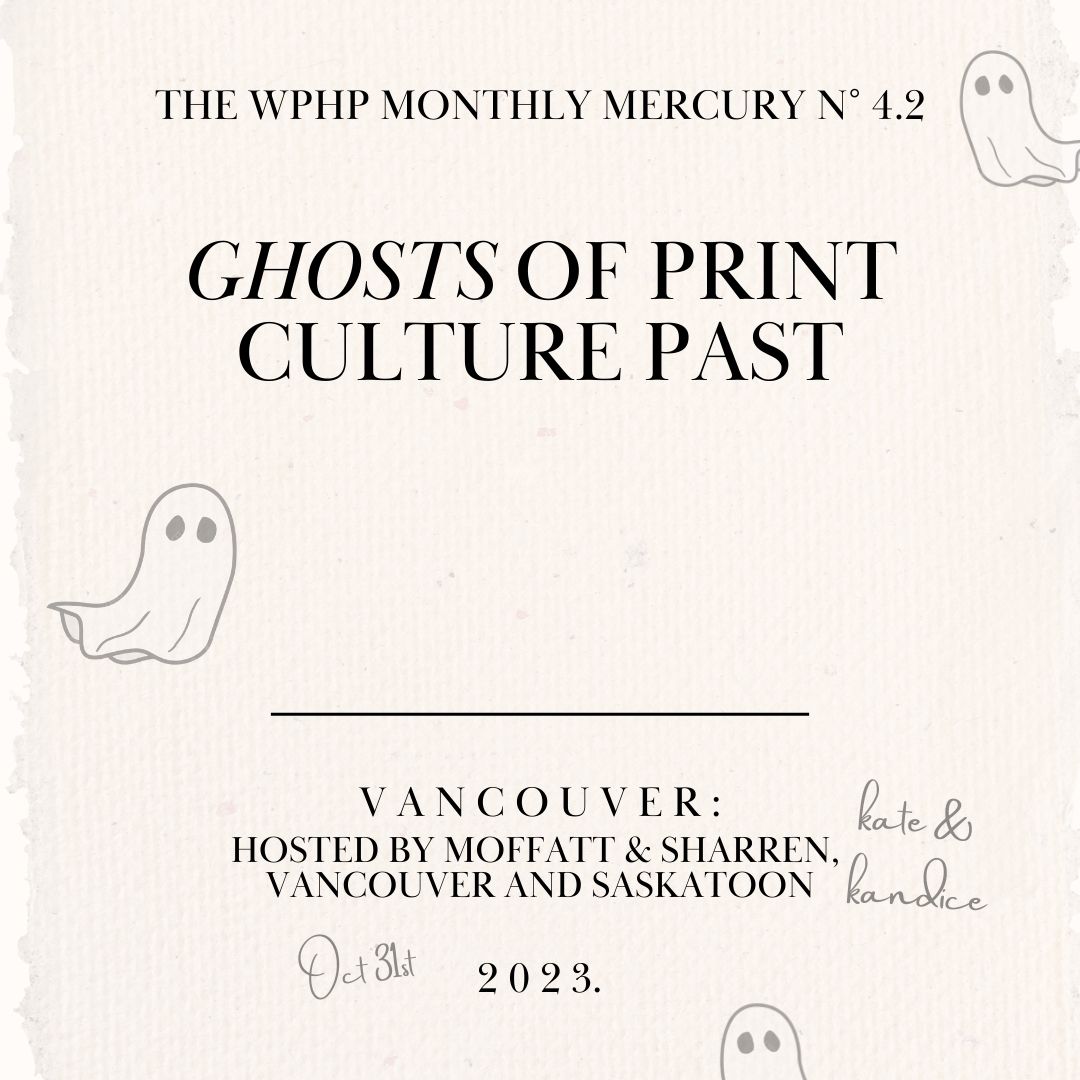 You can listen to Episode 2 of Season 4 of The WPHP Monthly Mercury, "Ghosts of Print Culture Past" on Apple, Spotify, Stitcher, Google Podcasts, and other podcast apps, available via Buzzsprout.
Do you believe in ghosts? In this spirited (ha ha) Halloween episode, Kandice and Kate encounter a ghost of their very own in circulating library owner and author Mary Tuck's Durston Castle; or, The Ghost of Eleonora (1804). Every year, in anticipation of October, we scour the WPHP for suitably spooky titles—previous Halloween episodes have featured badly behaved monks, rogue banditti, haunted castles, lost (and found!) parents, and pages upon pages of moralizing in the mountains (we're looking at you, Catherine Cuthbertson's four-volume Romance in the Pyrenees). Often satirical and rarely scary, these "Gothic" novels we share every year play out many of the tropes of the genre that we expect as readers, including explaining away anything supernatural. So when Kandice realized we might have a real ghost on our hands, well, we couldn't resist—and a real ghost story demands an audience.
Join our intrepid ghost-hunting hosts as they do a reading of Mary Tuck's tale together and harken back to a common eighteenth-century practice: reading aloud with friends and family. Filled with horrified gasps at the actions of "sanguinous villains," delighted laughter at descriptions of "brawny thighs," and inquisitions about how practical it is, really, to throw yourself onto a bed to sleep in full chain mail, this episode engages in a practice of print culture past and reflects on the act itself as much as the spirited tale being shared.
Credits:
Produced by: Kandice Sharren and Kate Moffatt
Mixed and mastered by: Alexander Kennard
Music by: Ignatius Sancho, "Sweetest Bard", A Collection of New Songs (1769) from https://brycchancarey.com/sancho/bard.jpg, and played by Kandice Sharren.
The WPHP Monthly Mercury Episodes Referenced
Season 1, Episode 5: "Of Monks and Mountains!!!"
Season 2, Episode 5: "The Witching Hour"

WPHP Records Referenced
Elizabeth Newbery (firm)
False Alarms; or the Mischievous Doctrine of Ghosts and Apparitions Exploded from the Minds of Every Miss and Master (title)
Weightman, Mary (author)
The friendly monitor; or dialogues for youth against the fear of ghosts, and other irrational apprehensions. With reflections on the Power of the Imagination, and the Folly of Superstition (title)
Mary Tuck (firm)
Durston Castle; or, The Ghost of Eleonora (title)
Tuck, Mary (author)
C. and W. Galabin (firm)
Cuthbertson, Catherine (author)
Romance of the Pyrenees (title)
Austen, Jane (author)
Works Cited
Williams, Abigail. The Social Life of Books: Reading Together in the Eighteenth-Century Home. Yale University Press, 2017.
Further Reading
Allan, David. A Nation of Readers: The Lending Library in Georgian England. The British Library, 2008.
Colclough, Stephen. Consuming Texts: Readers and Reading Communities, 1695–1870, Palgrave Macmillan, 2007.
Williams, Abigail. The Social Life of Books: Reading Together in the Eighteenth-Century Home. Yale University Press, 2017.
Wittmann, Reinhard, 'Was there a Reading Revolution at the End of the Eighteenth Century?' A History of Reading in the West, edited by Guglielmo Cavallo and Roger Chartier, Massachusetts UP, 1999, pp. 284-312.