The WPHP Monthly Mercury is the podcast of The Women's Print History Project. Inspired by the titles of periodicals of the long eighteenth century, this podcast dives into the gritty and gorgeous details of investigating women's work as authors and labourers in the book trades. Below you will find a list, in reverse chronological order, of episodes, with brief descriptions of each, and links to fuller descriptions and the podcasts themselves.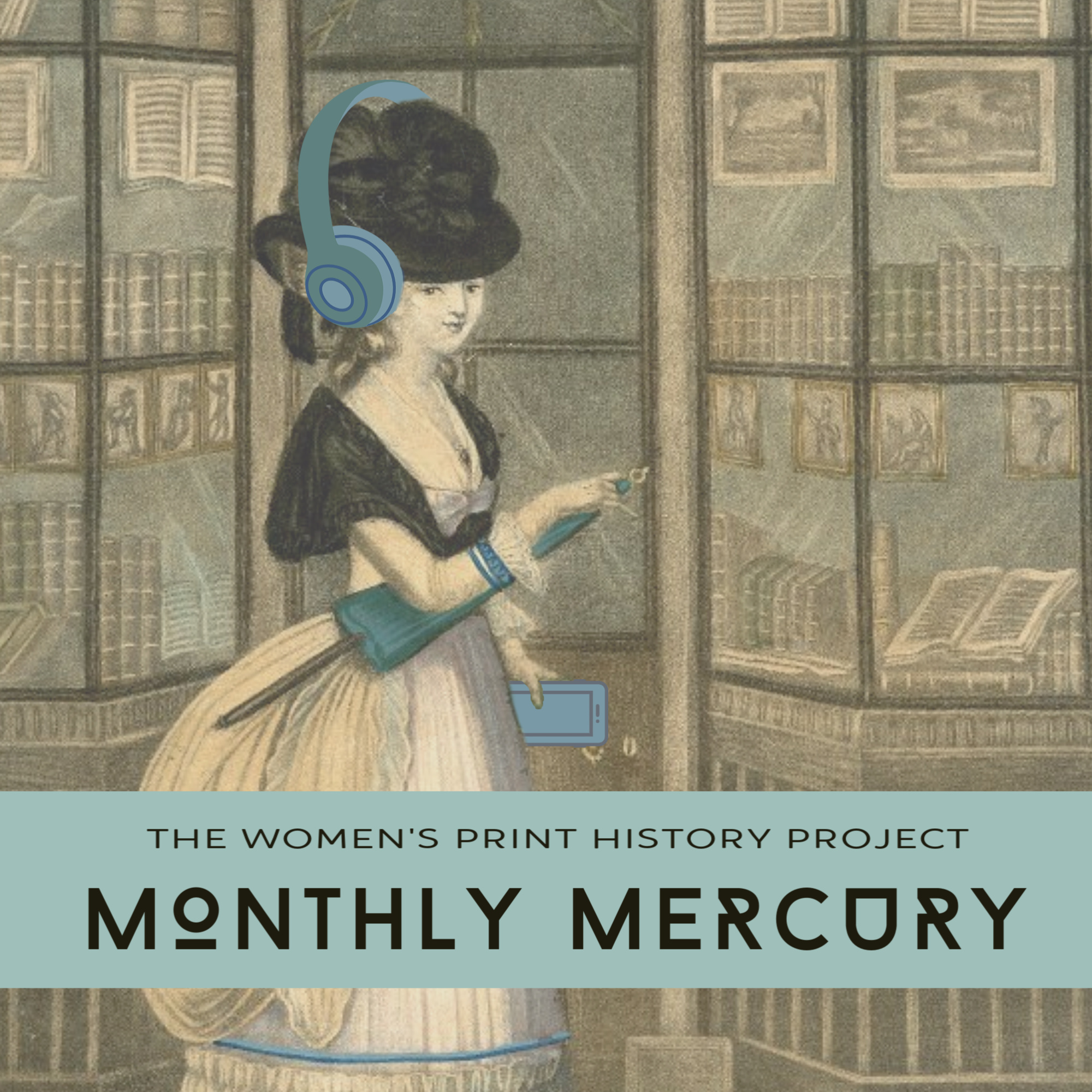 Season One:
Episode 10: A Brief and Scandalous History of Delarivier Manley (March 17, 2021)
In the final episode of Season One of The WPHP Monthly Mercury, hosts Kate Moffatt and Kandice Sharren celebrate Women's History Month by interviewing Dr. Kate Ozment about the late seventeenth- and early eighteenth-century writer, Delarivier Manley. Famous for her scandalous semi-autobiographical 'secret histories,' which satirized important Whigs in Queen Anne's courts, Manley inspires us to consider the relationship between eighteenth-century women and history, and how they—and we!—capture, create, and record it (and sometimes make things up along the way).
Episode 9: Bluestockings in Print (February 17, 2021)
Hosts Kate Moffatt and Kandice Sharren are joined by Dr. Betty A. Schellenberg, Bluestocking expert, to talk about the learned ladies of the informal eighteenth-century society and their complex relationships with print — along with some musings about puddings, friendships, and dirty laundry. Put on your blue stockings and join us for our penultimate episode of Season 1 of The WPHP Monthly Mercury!
Episode 8: 50 Words for Walking (January 20, 2021)
Ramble. Ambulate. Wander. What are the words you use for walking? In our eighth episode, we're looking to the words that women used to describe walking in print and manuscript during the eighteenth and early-nineteenth centuries, when a surge in pedestrian activity for leisure and pleasure occurred. An interview with guest Dr. Kerri Andrews, author of Wanderers: A History of Women Walking, has us grappling with women's involvement in that pedestrianism surge, and explore how the language they used (in manuscript and in print) illustrates the age-old tradition of women's walking that is so often left out of the history books.
Episode 7: 1816 and 2020: The Years Without Summers (December 16, 2020)
As 2020 draws to a tumultuous close, join hosts Kate Moffatt and Kandice Sharren as they look back—all the way to 1816. Often remembered as the cold and fog-laden year in which an 18-year-old Mary Shelley came up with the idea for Frankenstein, 1816 was a year of catastrophe more generally, known colloquially as "The Year Without a Summer" or "Eighteen Hundred and Froze to Death." This double episode, peer reviewed by Romanticism on the Net, explores how the bibliographical metadata contained in the WPHP can help us uncover a wider range of voices and genres, including political writing, travel memoirs, and poetry. These works reveal the lived experiences of women in a time of upheaval, but also provide an opportunity to meditate on the nature of literary production during catastrophe, especially how our own experiences during the upheavals of 2020 shaped our response to the books that we uncovered.
Episode 6: Mind the (Data) Gaps (November 18, 2020)
Have you ever wondered, "Where does all the WPHP data come from?" Well, look no further than this month's episode of The WPHP Monthly Mercury! From missing Frances Burney and Ann Radcliffe editions to ESTC imprint-specific searches, our sixth episode identifies data gaps and explores our superstar resources, the wide variety of print and digital sources we use, and the data limitations we wrangle on a daily basis while working on the WPHP.
Episode 5: Of Monks and Mountains!!! (October 21, 2020)
What do two of our favourite Gothic titles from the WPHP have in common? Banditti, the name 'Clementina,' and abducted women, for a start! Join hosts Kate and Kandice for this Halloween-themed episode of The WPHP Monthly Mercury as they discuss how you can identify works that align with the 'gothic' mode in the WPHP, chat about little-known women authors, and share their experiences reading two gothic novels: Elisabeth Guenard's The Three Monks!!! and Catherine Cuthbertson's Romance of the Pyrenees (both published in 1803 and both delightfully strange).
Episode 4: A Bibliographical Education (September 16, 2020)
Hosts Kandice Sharren and Kate Moffatt wander through the works categorized generically as "Education" in the WPHP, exploring the genre's variety of formats and styles, as well as its many adjacent genres—not least of which is "Juvenile Literature," which past RA Reese Irwin cheerfully (and almost single-handedly) entered into the database. In this episode, Reese joins us to speak about the process of entering the majority of our 3200+ Juvenile Literature titles, Kate and Kandice do suitably dramatic readings of excerpts from educational texts from notable eighteenth-century authors, and we speak to the ways in which the many forms teaching has taken this year during COVID-19 echoes eighteenth-century educational practices and their challenges.
Episode 3: Black Women and Female Abolitionists in Print (August 19, 2020)
Hosts Kandice Sharren and Kate Moffatt are joined by the entire WPHP team to speak to the Black Women's and Abolition Print History Spotlight Series that we published between June 19th and July 31st. This series was written in response to the Black Lives Matter movement and the protests that erupted across the globe in response to police brutality and the murder of George Floyd on May 25, 2020. Featuring poet Phillis Wheatley, bookseller Ann Sancho, author Mary Prince, abolitionists Elizabeth Heyrick and Lydia Maria Child, orator Maria W. Stewart, and the anonymous novel The Woman of Colour, these spotlights celebrate and make visible Black women's and radical abolitionist history as it appeared in print during the Romantic period. This episode discusses what the common threads and challenges we faced in researching this series can tell us about Black women's lives and the abolitionist movement in the eighteenth and nineteenth centuries.
Episode 2: Women in the Imprints (July 15, 2020)
Follow Kate and Kandice through the labyrinthine labour that goes into discovering female-run firms: the women who were publishers, printers, and booksellers. Starting with the discovery of Ann Sancho, a Black bookseller in London (the only Black woman in the book trades we know of thus far), this episode shares the joys and the frustrations of discovering and recovering the women who worked in the book trades in the eighteenth and nineteenth centuries for the Women's Print History Project.
Episode 1: Jane Austen Adjacent (June 17, 2020)
In this first episode of The WPHP Monthly Mercury, "Jane Austen Adjacent", hosts Kandice Sharren and Kate Moffatt explore Jane Austen's publication history, from unpublished anonymity to well-beloved and canonical, to introduce you to the Women's Print History Project. They share the project's not-so-humble data collection beginnings at Chawton House Library and the types of bibliographic data collected on the database, and explain the role that bibliographic and publication data can play in understanding the eighteenth- and nineteenth-century book trades.
Episode 0.5: Introducing the WPHP Monthly Mercury (June 12, 2020)
The WPHP Monthly Mercury will be released every third Wednesday of the month, starting June 17, 2020, so welcome to our first-ever podcast episode: Episode 0.5: Introducing the WPHP Monthly Mercury. Each future episode will have a corresponding blog post that contains further reading, a bibliography, and a full list of all WPHP entries referenced in the episode.