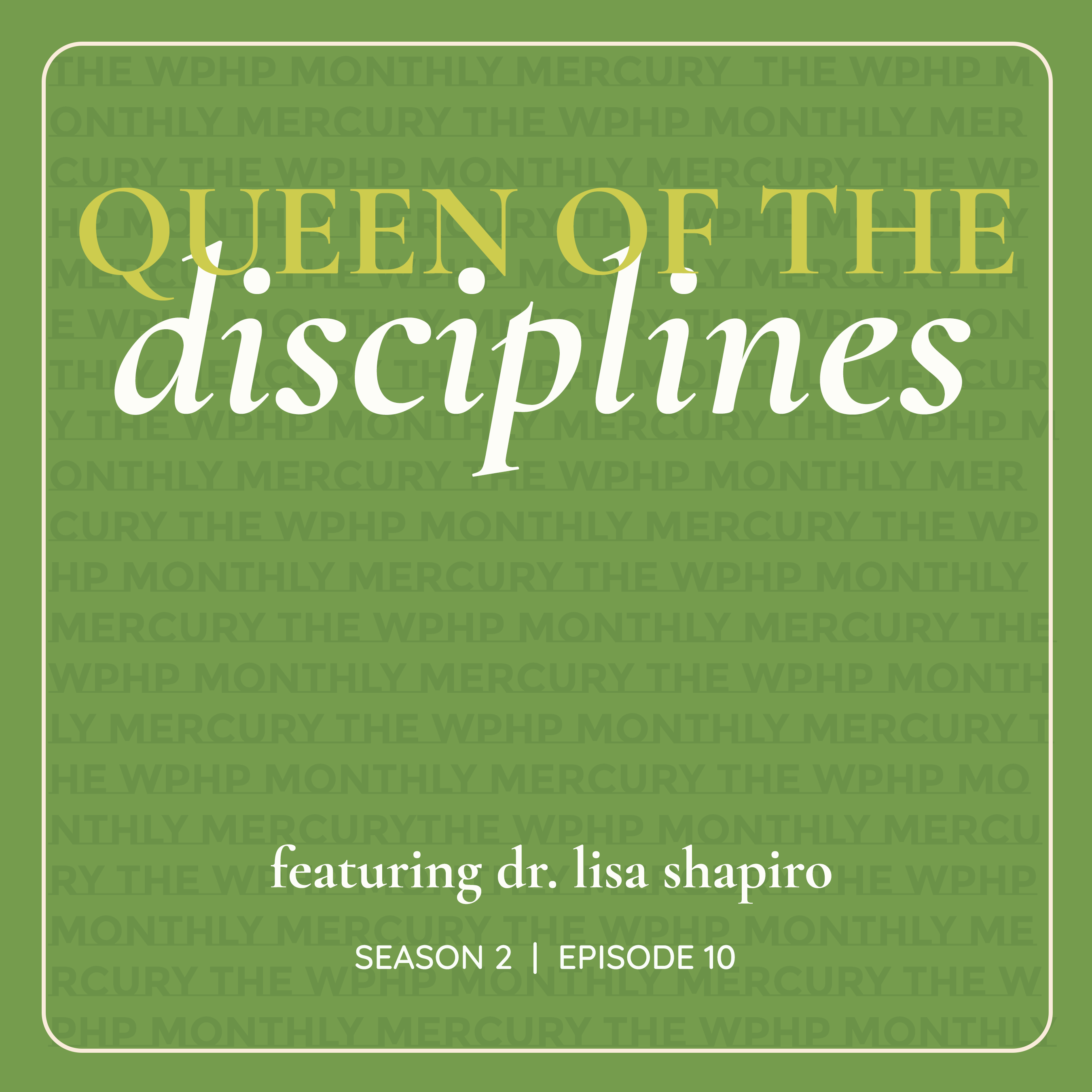 You can listen to Episode 10 of Season 2 of the WPHP Monthly Mercury, "Queen of the Disciplines," on Apple, Spotify, Stitcher, Google Podcasts, and other podcast apps, available via Buzzsprout.
Throughout the month of March, the WPHP has been posting Spotlights about women philosophers in print as part of our Women & Philosophy Spotlight Series to celebrate Women's History Month. Contributors to the series include research assistants Angela Wachowich, Belle Eist, Isabelle Burrows, Tammy T., and project director Michelle Levy, who wrote about the anonymous 'Sophia, a Person of Quality,' Margaret Cavendish, Harriet Martineau, Anna Laetitia Barbauld, and Ann Williams.
Finding women philosophers in the WPHP is not necessarily a straightforward task: we don't include philosophy as a genre, as research assistant Angela Wachowich, organizer of the Series, discovered during some of her work on early feminist writing last year. Turning to Lisa Shapiro's New Narratives Bibliography of Works by Women Philosophers of the Past, Angela identified a number of women philosophers who we do, indeed, have in the WPHP—but that she had to use the New Narratives Bibliography to find them illustrates how the WPHP data model does not (and cannot) render visible every genre. It also, however, demonstrates how digital humanities projects from different disciplines can speak to each other.
And that is precisely what we did for this month's episode: we invited Lisa Shapiro, director of the Extending New Narratives Partnership Project, to chat with us about women philosophers, the difficulty of genre, the narratives in entrenched canons (and the cross-disciplinary urge to name a canon), and the importance of discipline-specific recovery efforts.
Guest:
Lisa Shapiro is Professor of Philosophy at Simon Fraser University. Her research is focused on accounts of human nature in the 17th century, along two general tracks. She has been interested in the place of the passions in accounts of the relations of human beings to the world around them, and their understanding of that world. And she is currently the PI of the SSHRC-funded Extending New Narratives Partnership Project, which aims to retrieve philosophical works of women and individuals from other marginalized groups and sustain the presence of these figures in the history of philosophy, and part of that project includes the New Narratives Bibliography of Works by Women Philosophers of the Past.
Credits:
Produced by: Kate Moffatt, Kandice Sharren, and Michelle Levy
Mixed and mastered by: Alexander Kennard
Music by: Ignatius Sancho, "Sweetest Bard", A Collection of New Songs (1769) from https://brycchancarey.com/sancho/bard.jpg, and played by Kandice Sharren
WPHP Spotlights Referenced
"Cataloguing Catharine Macaulay" (Kate Moffatt)
WPHP Records Referenced
Sophia, a Person of Quality (person)
Cavendish, Margaret (person, author)
Martineau, Harriet (person, author)
Barbauld, Anna Laetitia (person, author)
Williams, Ann (person, author)
d'Éon de Beaumont, Charles Geneviève Louis Auguste André Timothée (person, author)
Vindication of the Rights of Woman (title)
Wollstonecraft, Mary (person, author)
Macaulay, Catharine (person, author)
Hays, Mary (person, author)
Hume, David (person, author)
Wordsworth, William (person, author)
Coleridge, Samuel Taylor (person, author)
Lord Byron, George Gordon (person, author)
Shelley, Percy Bysshe (person, author)
Blake, William (person, engraver)
Astell, Mary (person, author)
Letters on Education (title)
The History of England (title)
Works Cited
Broad, Jacqueline. The Philosophy of Mary Astell : an Early Modern Theory of Virtue. Oxford UP, 2015.
O'neill, Eileen. "History Of Philosophy." Philosophy In A Feminist Voice, Princeton Up, 1997, pp. 17–62.
Further Reading
Broad, Jacqueline, and Karen Detlefsen, eds. Women and Liberty, 1600-1800 : Philosophical Essays. Oxford UP, 2017.
Duran, Jane. Women, Philosophy and Literature. Ashgate, 2007.
Gevirtz, Karen Bloom. Women, the Novel, and Natural Philosophy, 1660-1727. Palgrave Macmillan, 2014.
McInnes, Andrew. Wollstonecraft's Ghost : the Fate of the Female Philosopher in the Romantic Period. Routledge, Taylor & Francis Group, 2017.
Moland, Lydia. "Lydia Maria Child on German Philosophy and American Slavery." British Journal for the History of Philosophy, vol. 29, no. 2, 2021, pp. 259–74.
This podcast draws on research supported by the Social Sciences and Humanities Research Council.