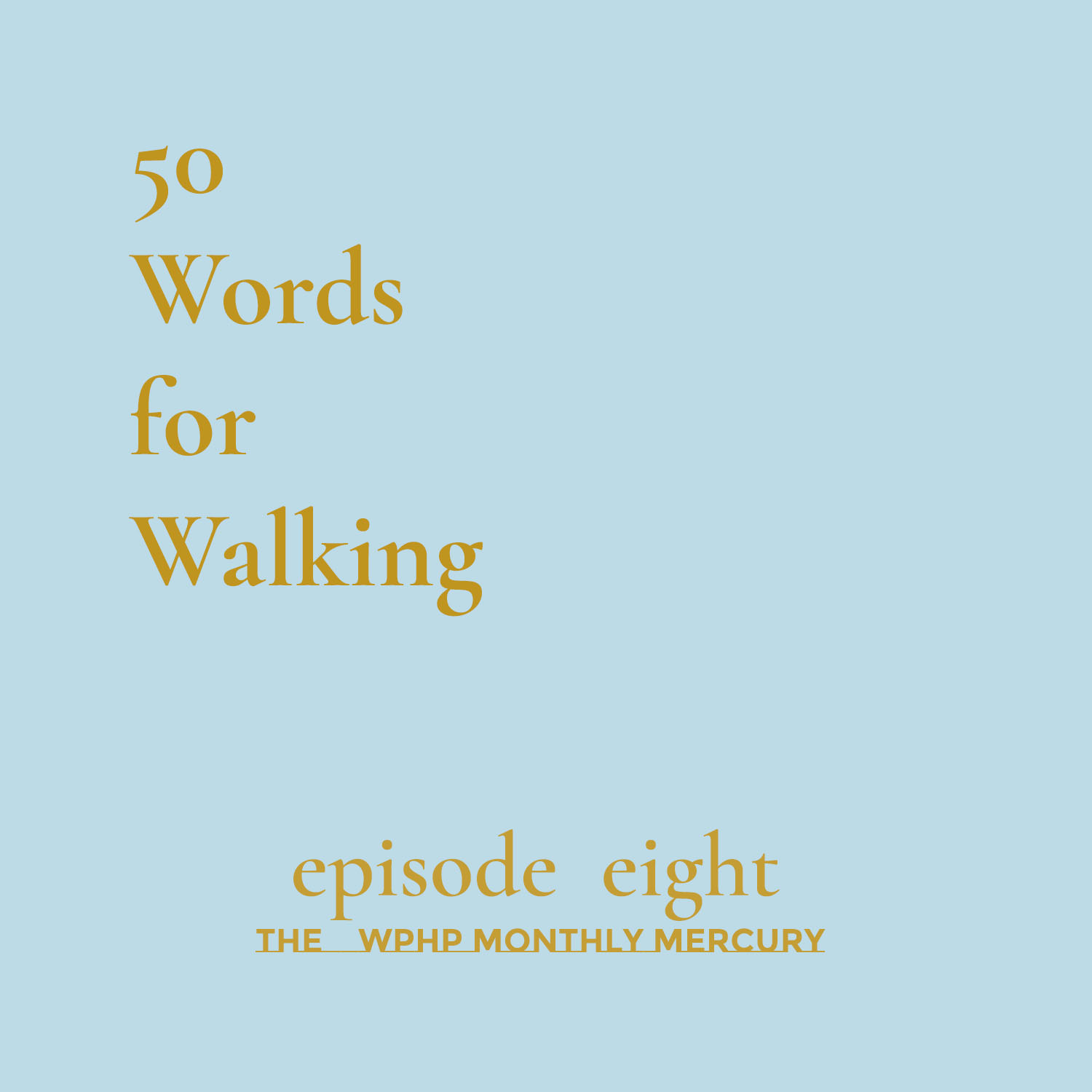 You can listen to Episode 8 of the WPHP Monthly Mercury, "50 Words for Walking", on Apple, Spotify, Stitcher, Google Podcasts, and other podcast apps, available via Buzzsprout.
To walk:
To move about on foot, and related senses;
To move or travel at a regular and fairly slow pace by lifting and setting down each foot in turn, so that one of the feet is always on the ground.

To ramble:
An act of rambling; a walk or wander (formerly: any excursion or journey) without definite route or other aim than recreation or pleasure; (now) esp. one taken in the country.
To wander:
Of persons or animals: To move hither and thither without fixed course or certain aim; to be (in motion) without control or direction; to roam, ramble, go idly or restlessly about; to have no fixed abode or station.

— from the Oxford English Dictionary
What are the words you use to describe walking? Do you ramble, or do you wander? Do you go for a stroll, or a jaunt?
In Episode 8 of the WPHP Monthly Mercury hosts Kate Moffatt and Kandice Sharren use a working knowledge of the vocabulary of walking during the eighteenth and early-nineteenth centuries to explore how women portrayed walking in print — and in manuscript, too, with the help of guest Dr. Kerri Andrews, Reader at Edge Hill University and author of Wanderers: A History of Women Walking.
Taking this as an opportunity to stretch the WPHP research muscles, Episode 8, "50 Words for Walking," uses keyword searches and full title metadata to find works written by women that referred to walking. Which terms had the most results? Which genres did those results fall into? Were there patterns, or particular uses for certain terms? This ramble through the WPHP data resulted in, among many other things, a delightful array of novels that Kate is adding to her to-be-read list — The Midnight Wanderer, for one, and The Welsh Mountaineer, for another — and the discovery that the term 'rambles' was most often used in children's literature, especially for educational texts.
Our interview with Kerri Andrews explores the walking vocabularies of some of the women whose manuscripts she worked with for her book, Wanderers, including Elizabeth Carter, Dorothy Wordsworth, and Harriet Martineau; considers how public or private formats and their respective audiences can impact representations of walking; and acknowledges the stark difference in point of view, more than language, between men's and women's accounts of their walking and mountaineering during the Romantic period.
Guests:
A big thank you to Dr. Kerri Andrews for joining us on the podcast this month! Kerri Andrews is Reader in Women's Literature and Textual Editing at Edge Hill University, and the author of Wanderers: A History of Women Walking, which was published by Reaktion Books in 2020. She is currently editing the first-ever edition of the Scottish nature writer Nan Shepherd's letters, and writes in both the academic and trade press about women, the outdoors, and the history of mountaineering. She lives in southern Scotland, near Edinburgh.
Credits:
Produced by: Kandice Sharren, Kate Moffatt, and Michelle Levy
Mixed and mastered by: Alexander Kennard
Music by: Ignatius Sancho, "Sweetest Bard", A Collection of New Songs (1769) from https://brycchancarey.com/sancho/bard.jpg, and played by Kandice Sharren
WPHP Records Referenced
Pride and Prejudice (title)
Austen, Jane (person, author)
Carter, Elizabeth (person, author)
Wordsworth, Dorothy (person, author)
Weeton, Ellen (person, author)
Martineau, Harriet (person, author)
The Welsh Mountaineer (title)
Hutton, Catherine (person, author)
Parnassian Geography; or, the Little Ideal Wanderer (title)
The Wanderer of Scandinavia (title)
The Midnight Wanderer (title)
The Mysterious Wanderer (title)
The Letters of a Solitary Wanderer (title)
Watts, Susanna (person, author)
A Walk Through Leicester (title)
Smith, Charlotte Turner (person, author)
Rural Walks: in dialogues (title)
Rambles Farther: a continuation of Rural Walks (title)
Helme, Elizabeth (person, author)
Instructive Rambles in London (title)
Semple, Elizabeth (author)
Summer rambles; or, Conversations, instructive & entertaining (title)
Bell, Mrs. E. (person, author)
Entertaining and Instructive Rambles (title)
Wilson, Lucy Sarah Atkins (author)
The Juvenile Rambler (title)
Burney, Frances (author)
The Wanderer (title)
Reeve, Sophia (person, author)
Margaret Campbell (pseudonym for Hall, Agnes) (person, author)
A series of letters between Miss Elizabeth Carter and Miss Catherine Talbot (title)
All the works of Epictetus (title)
Works Cited
Andrews, Kerri. Wanderers: A History of Women Walking. Reaktion Books, 2020.
Austen, Jane. Pride and Prejudice. 1813.
Horrocks, Ingrid. Women Wanderers and the Writing of Mobility, 1787-1814. Cambridge UP, 2019.
Jarvis, Robin. Romantic Writing and Pedestrian Travel. Palgrave MacMillan, 1997.
Rizzo, Betty. "Equivocations of Gender and Rank: Eighteenth-Century Sporting Women." Eighteenth-Century Life, vol. 26, no. 1, 2002, pp. 70-118.
Rousseau, Jean Jacques. The Confessions of J.J. Rousseau, with The Reveries of a Solitary Walker. Translated from the French. J. Bew, 1783.
Thom, Walter. Pedestrianism; Or, An Account of the Performances of Celebrated Pedestrians During the Last and Present Century: with a Full Narrative of Captain Barclay's Public and Private Matches; and an Essay on Training. A. Brown and F. Frost, 1813. HathiTrust Digital Library, https://catalog.hathitrust.org/Record/009706533
Wallace, Anne. Walking, Literature, and English Culture: The Origins and Uses of Peripatetic in the Nineteenth Century. Clarendon Press, 1993.
Further Reading
Burgess, Miranda. "Transport: Mobility, Anxiety, and the Romantic Poetics of Feeling." Studies in Romanticism, vol. 49 no. 2, 2010, pp. 229-260.
Murphy, Olivia. "Jane Austen's "Excellent Walker': Pride, Prejudice, and Pedestrianism." Eighteenth-Century Fiction, vol. 26 no. 1, 2013, pp. 121-142.
This podcast draws on research supported by the Social Sciences and Humanities Research Council.