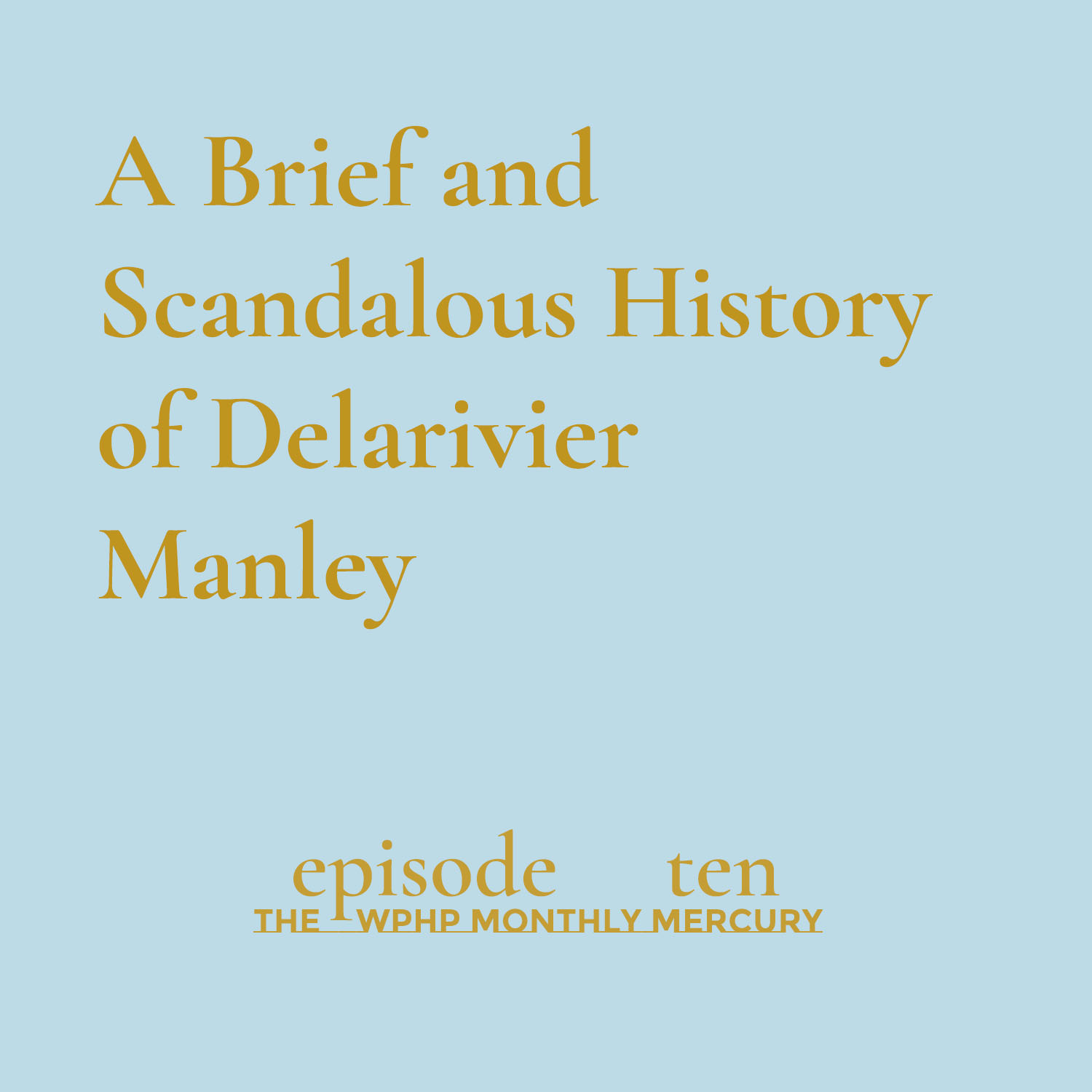 You can listen to Episode 10 of The WPHP Monthly Mercury, "A Brief and Scandalous History of Delarivier Manley", on Apple, Spotify, Stitcher, Google Podcasts, and other podcast apps, available via Buzzsprout.
March is Women's History Month, and this month's episode of The WPHP Monthly Mercury—the tenth and final episode of Season One!—is celebrating women, history, and how women engaged with history as authors, curators, and editors of the genre in the eighteenth century.

The 'History' genre in the WPHP is a complicated one: many of the historical works we have in the WPHP arguably fit better into other genres, such as juvenile literature or political writing, resulting in a tiny portion of our more than eleven thousand titles being catalogued as histories. In Episode 10, "A Brief and Scandalous History of Delarivier Manley" hosts Kate Moffatt and Kandice Sharren interview a new WPHP collaborator, Dr. Kate Ozment, about the eighteenth-century writer and grifter, Delarivier Manley.

Informed by their conversation with Dr. Ozment, Kate and Kandice consider the historical genre during the eighteenth century and what we know of women's involvement in it—but they also consider how, as editors of the Women's Print History Project, they are something of 'historians' themselves by way of finding, displaying, and sharing women's histories in print.

Dr. Kate Ozment is an assistant professor of English at California State Polytechnic University, Pomona. Her research focuses on the rationale and practice of feminist bibliography and in addition to women grifters, she professionally stans women bibliographers, cataloguers, collectors, and librarians. When it's not a perpetual shelter in place order, she can be found skulking around any library with a copy of Charlotte Charke's Narrative and a physical card catalogue. During the pandemic, she tends to type around one of two furry tyrants while working through a March Madness bracket of different kinds of tea.
Read more about our Women & History Spotlight Series here.
Credits:
Produced by: Kate Moffatt, Kandice Sharren, and Michelle Levy
Music: "Sweetest Bard", from Ignatius Sancho's Minuets, Cotillons & Country Dances for the Violin, Mandolin, German Flute, & Harpsichord Composed by an African (1767), from https://brycchancarey.com/sancho/music.htm. Played by Kandice Sharren.
WPHP records in the order they are referenced:
Delarivier Manley (person)
Catharine Macaulay (person)
The History of England (title)
Lucy Aikin (person)
Memoirs of the Court of Queen Elizabeth (title)
Felicia Hemans (person)
Records of Woman (title)
Mary Hays (person)
Female Biography (title)
Charlotte Charke (person)
The New Atalantis (title)
The Adventures of Rivella (title)
Aphra Behn (person)
Catharine Trotter (person)
Eliza Haywood (person)
Edmund Curll (firm)
John Morphew (firm)
James Woodward (firm)
Mary Cooper (firm)
Works cited:
Carnell, Rachel. A Political Biography of Delarivier Manley. Cambridge, Pickering and Chatto, 2014.
Hill, Bridget. "Macaulay [née Sawbridge; other married name Graham], Catharine (1731–1791), historian and political polemicist." Oxford Dictionary of National Biography. Oxford University Press, May 24, 2012. <https://www-oxforddnb-com.proxy.lib.sfu.ca/view/10.1093/ref:odnb/9780198614128.001.0001/odnb-9780198614128-e-17344> Accessed 12 March 2021.
Herman, Ruth. The Business of a Woman: The Political Writings of Delarivier Manley. University of Delaware Press, 2003.
Further reading:
Bullard, Rebecca and Rachel Carnel, eds. The Secret History in Literature, 1660-1820. Cambridge University Press, 2017.
Hultquist, Aleksondra and Elizabeth Mathews, eds. New Perspectives on Delarivier Manley and Eighteenth Century Literature: Power, Sex, and Text. Routledge, 2019.
Parsons, Nicola. "Reading Secrets of State: Delarivier Manley and the New Atalantis." Reading Gossip in Early Eighteenth-Century England. London, Palgrave Macmillan UK, 2009, p. 38-68. https://doi-org.proxy.lib.sfu.ca/10.1057/9780230244764