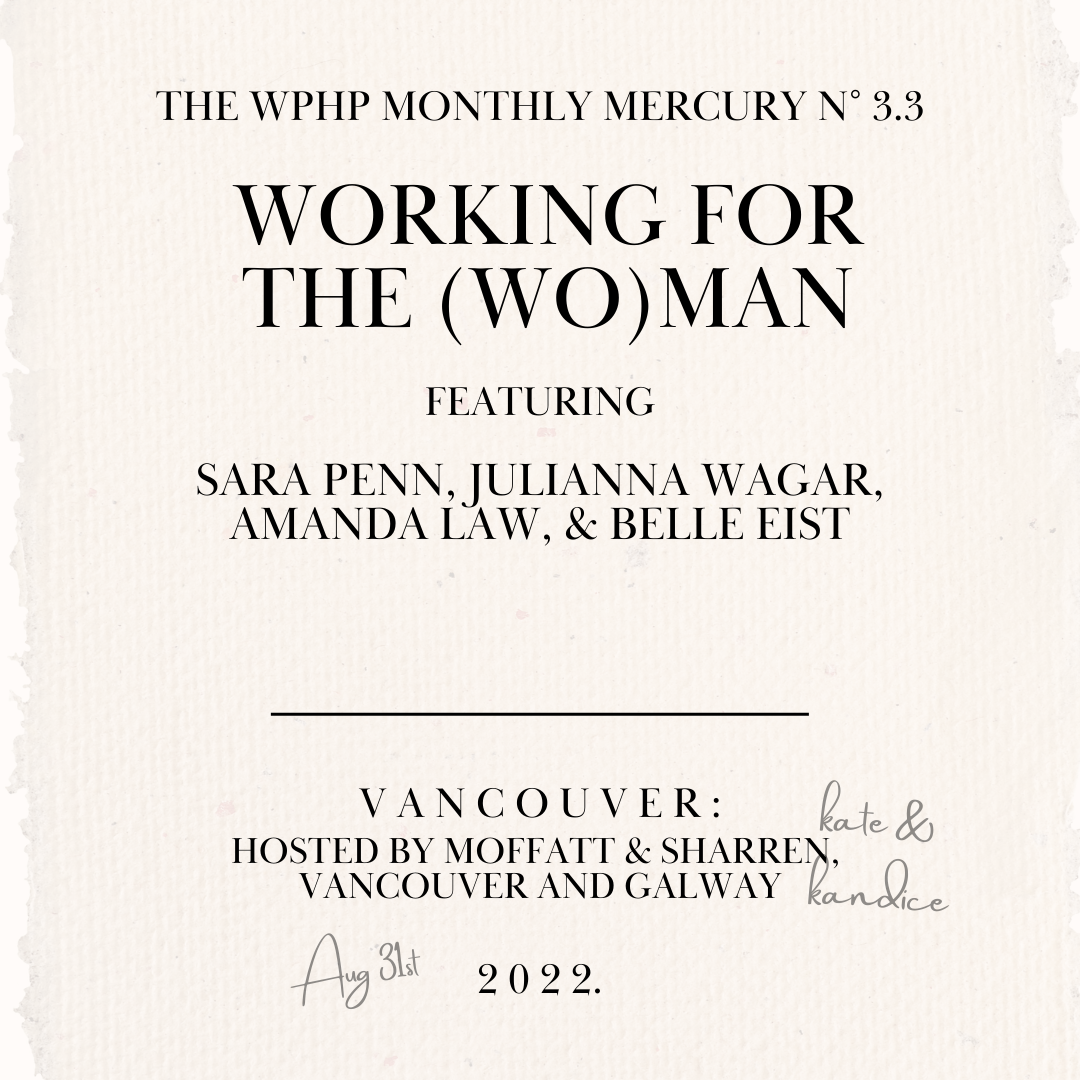 You can listen to Episode 3 of Season 3 of The WPHP Monthly Mercury, "Working for the (Wo)man" on Apple, Spotify, Stitcher, Google Podcasts, and other podcast apps, available via Buzzsprout.
This August, the WPHP has been sharing the Spotlights that make up our newest Spotlight Series, "Down the Rabbit Hole: Researching Women in the Book Trades." Over the course of the month, posts from Research Assistants Sara Penn, Julianna Wagar, Amanda Law, and, as of this coming Friday with the last post of the Series, Belle Eist, have focused on women who worked in the eighteenth- and nineteenth-century book trades.
While the WPHP is a title-centric database—the data we capture is centered around what is captured in the books themselves—we do have an extensive, and growing, dataset of women who worked as publishers, printers, and booksellers during our period. The labour required to include books in the WPHP that women published, printed, and sold is not insignificant, and yet, as the Spotlights shared this month highlight, there is always, even still, more to the story than what we manage to capture in the WPHP.
In this month's episode, "Working for the (Wo)man", you'll hear from our Research Assistants themselves about their Spotlights and the women they researched: the feuding men and women of the Farley family of Bristol printers, the King's and Queen's Printer Agnes Campbell who began her career with her husband's debt and by the time she died was the wealthy Lady Roseburn, the printer Jane Aitken, whose imprints tell a very different story than the life she lived, and Ann Vernor, the woman behind an imprint we've had in the WPHP for the last seven years while completely unaware that she was at its helm. We also feature a Spotlight about Anne Dodd, trade publisher, by WPHP Contributing Scholar Kate Ozment, which allows us to delve into our data model and its—you guessed it—limits.
You can read more about our "Down the Rabbit Hole" Spotlight Series here, and we highly encourage you to read the Spotlights. These blog posts involve independent and original research, the creation and analysis of new datasets, and a lot of labour that isn't always visible in our database. As this podcast makes a concerted effort to acknowledge and make visible some of that invisible labour of working on a digital humanities project, we're particularly thrilled to center and showcase the labour of our Spotlight-writing Research Assistants in this month's episode.
As a quick aside: this month, one of our episodes—Episode 2, Season 2: "Collected, Catalogued, Counted"—was featured on The SpokenWeb Podcast, Kate's other podcast that she works on. If you enjoy what we do here on The WPHP Monthly Mercury, you'll enjoy their podcast, too, which engages with literary audio held in university collections in Canada and beyond as part of the SpokenWeb project.
Guests:
Sara Penn earned her M.A. from Simon Fraser University's Department of English. She researches print and manuscript cultures of Britain's long eighteenth century, with particular interests in women's book history, bibliography, and digital humanities. She is largely responsible for editing, updating, and formatting all WPHP content.
Julianna Wagar has recently completed her BA at Simon Fraser University in English and Gender, Sexuality, and Women's Studies. She is an incoming MA student in English at SFU. Her research interests include eighteenth-century Scottish literature, women's literature, and Scottish women's travel writing.
Amanda Law recently completed her BA (Hons) in English with a Humanities minor at Simon Fraser University, and is an incoming MA student in the Department of English at UBC. Her research centers on Asian American representation in young adult and popular cultural productions.
Belle Eist is completing her BA in English with a minor in Gender, Sexuality, and Women's Studies at Simon Fraser University. Her research interests surround the social mores of the long eighteenth century and the women writers who sought to disrupt them.
Credits:
Produced by: Kate Moffatt, Kandice Sharren, and Michelle Levy
Mixed and mastered by: Alexander Kennard
Music by: Ignatius Sancho, "Sweetest Bard", A Collection of New Songs (1769) from https://brycchancarey.com/sancho/bard.jpg, and played by Kandice Sharren
WPHP Spotlights Referenced
"What Does it Mean to Publish? A Messy Accounting of Anne Dodd" (Kate Ozment)
"The Farley Family, their Feud, and the Bristol Print Trade" (Sara Penn)
"A Royal Printer: Agnes Campbell in Scotland's Book Trade" (Julianna Wagar)
"Printed (Bound, Published, and Sold) by Jane Aitken" (Amanda Law)
"Hidden in the Imprints: Introducing Ann Vernor, Bookseller and Publisher, Active 1793-1807" (Belle Eist)
The WPHP Monthly Mercury Episodes Referenced
Season 1, Episode 2: "Women in the Imprints"
Season 1, Episode 6: "Mind the (Data) Gaps"
Season 2, Episode 2: "Collected, Catalogued, Counted"
WPHP Records Referenced
Anne Dodd (firm)
Elizabeth Farley (firm)
Sarah Farley (firm)
Hester Farley (firm)
Clifton: a poem, in two cantos. Including Bristol and all its environs. By Henry Jones, author of the Earl of Essex, Isle of Wight, Kew-Gardens, &c. (title)
More, Hannah (person)
Samuel Farley (firm)
Agnes Campbell (firm)
Spence, Elizabeth Isabella (person)
Issobell and Elizabeth Anderson (firm)
Jane Aitken (firm)
Robert Aitken (firm)
Rush, Rebecca (person)
Kelroy, a Novel. (title)
Ann Vernor and Thomas Hood (firm)
Thomas Vernor (firm)
Further Reading
Barker, Hannah. "Women, work and the industrial revolution: female involvement in the English printing trades, c. 1700–1840," Gender in Eighteenth-Century England: Roles, Representations and Responsibilities, ed. Hannah Barker and Elaine Chalus. Longman, 1997, pp. 81–100.
Mann, Alistair. "Book Commerce, Litigation and the Art of Monopoly: The Case of Agnes Campbell, Royal Printer, 1676-1712." Scottish Economic & Social History, 1998, pp. 132–156, DOI: 10.3366/sesh.1998.18.PART_2.132.
Maruca, Lisa. The Work of Print: Authorship and the English Text Trades, 1660-1760. University of Washington Press, 2007.
Raven, James. The Business of Books: Booksellers and the English Book Trade. Yale University Press, 2007.
Spawn, Willman. "A Jane Aitken Binding." Proceedings of the American Antiquarian Society, vol. 91, no. 1, 1981, p. 109.
Wakely, Maria, and Graham Rees. Publishing, Politics, and Culture: The King's Printers in the Reign of James I and VI. Oxford UP, 2010.
This podcast draws on research supported by the Social Sciences and Humanities Research Council.