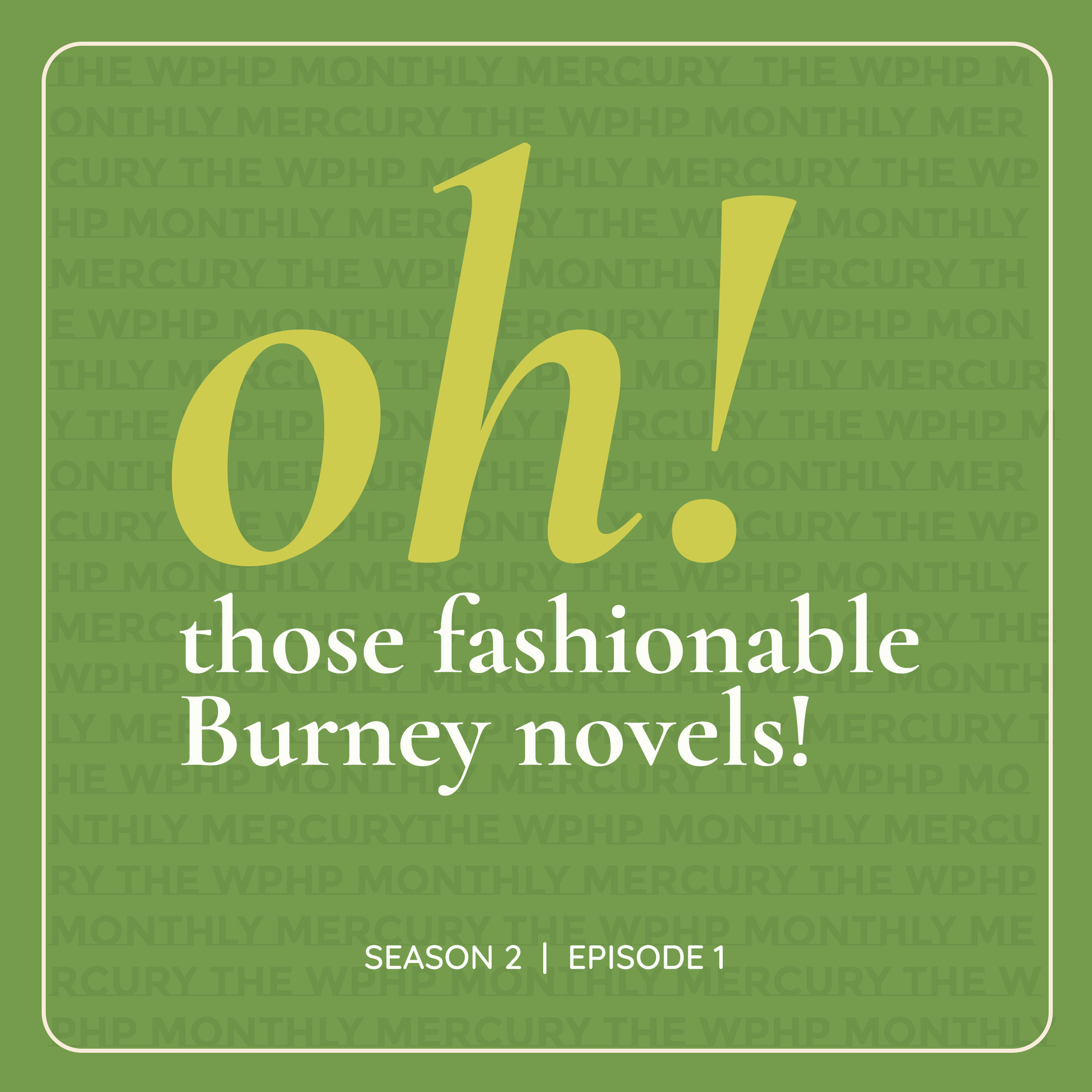 You can listen to the first episode of Season 2 of of The WPHP Monthly Mercury, "Oh! those fashionable Burney novels!", on Apple, Spotify, Stitcher, Google Podcasts, and other podcast apps, available via Buzzsprout.
At the age of eight, Frances Burney didn't know her letters; at the age of ten, she penned a novel which is now lost, "The History of Caroline Evelyn"; at the age of eighteen, she was friends with Hester Thrale and Samuel Johnson; and at the age of twenty-six, she anonymously published Evelina, which, when her identity as the author was revealed soon after, thrust her into a writing career that would span decades and a fame that would last centuries (ODNB).
In the first episode of Season 2 of the WPHP Monthly Mercury, "Oh! those fashionable Burney novels!", hosts Kate Moffatt and Kandice Sharren delve into the publication history of Frances Burney's first two (and most popular) novels, Evelina (1778) and Cecilia (1782). Although both were regularly reprinted well into the nineteenth century, we recently realized that the WPHP was missing the post-1800 editions of these works (although it did already hold all of the editions of her two far less popular novels, Camilla (1796) and The Wanderer (1814)—thank goodness!). In this episode, we explore why these titles were missing and our subsequent task: creating an as-comprehensive-as-we-can-make-it bibliography of Frances Burney's novels up to 1836.
Join us as we share Burney's writerly life story, the reception history of her works and their critical rise and fall, the challenges we faced in attempting to collect the bibliographic data for every edition of Burney's works up until 1836, and what it is, exactly, that this kind of work can tell us—about a writer, about their reception history, about their publishers, and about the complexities of uncovering a full publication history even for a well-documented eighteenth-century woman author like Frances Burney.
To see all of the editions, check out Frances Burney's person record, which lists and links to every Burney edition in the WPHP. We've also connected all of the title records for the editions of each individual work to one another; click the following titles to be taken to the title record of the first edition, where, at the bottom of each page, there is a "related titles" section that lists and links to all editions of that work in the WPHP: Evelina, Cecilia, Camilla, The Wanderer.
(If you know of any editions that we're missing, feel free to get in touch!)
Keep up with us on social media! You can find us on Instagram, Twitter, and Facebook. We're hosting the first-ever WPHP Read-a-thon in July—find out more here!
Credits:
Produced by: Kate Moffatt, Kandice Sharren, and Michelle Levy
Mixed and mastered by: Alexander Kennard
Music by: Ignatius Sancho, "Sweetest Bard", A Collection of New Songs (1769) from https://brycchancarey.com/sancho/bard.jpg, and played by Kandice Sharren
WPHP Monthly Mercury Episodes Referenced
Season 1, Episode 9: "Bluestockings in Print"
Season 1, Episode 6: "Mind the (Data) Gap"

WPHP Records Referenced
Cecilia (title, first edition)
Camilla (title, first edition)
Belinda (title)
Austen, Jane (person, author)
Northanger Abbey (title)
Burney, Frances(person, author)
Meeke, Elizabeth (person, author)
Johnson, Samuel (person, author)
Piozzi, Hester Lynch Thrale (person, author)
Evelina (title, first edition)
More, Hannah (person, author)
Montagu, Elizabeth (person, author)
The Wanderer (title)
Thomas Lowndes (firm, publisher)
Tragic Dramas (title)
Thomas Payne and Son (firm, publisher)
Thomas Cadell (firm, publisher)
Haywood, Eliza (person)
The British Novelists (title)
William Emans (firm, publisher)
Henry Fisher (firm, publisher)
William Lowndes (firm, publisher)
Minerva Press, A.K. Newman and Co. (firm, publisher)
A.K. Newman and Co. (firm, publisher)
Works Cited
Austen, Jane. Northanger Abbey. Second Edition. Edited by Claire Grogan. Broadview Press, 2002.
Burney, Edward Francisco. Frances Burney. 1784–5. National Portrait Gallery, London.
Burney, Frances. Camilla. Thomas Cadell and William Davies; Thomas Payne, 1796.
Burney, Frances. Cecilia. Thomas Payne and Son; Thomas Cadell, 1782.
Burney, Frances.Evelina. Thomas Lowndes, 1778.
Burney, Frances.The Wanderer. Longman, Hurst, Rees, Orme, and Brown, 1814.
Croker, John Wilson. "Standard Novels and Romances." Rev. of The Wanderer, by Frances Burney. Quarterly Review, April 1814, 123–30.
Gallagher, Catherine. Nobody's Story: The Vanishing Acts of Women Writers in the Marketplace, 1670–1820. U of California P, 1994.
Gilson, David. A Bibliography of Jane Austen. Oxford: Clarendon Press; New York: Oxford UP, 1982.
Justice, George. The Manufacturers of Literature: Writing and the Literary Marketplace in Eighteenth-Century England. U of Delaware P, 2002.
Lynch, Deidre Shauna. The Economy of Character: Novels, Market Culture, and the Business of Inner Meaning. Chicago UP, 1998.
Parisian, Catherine M. Frances Burney's Cecilia: A Publishing History. Ashgate, 2012.
Pink, Emma E. 'Frances Burney's Camilla: "to Print My Grand Work...by Subscription"'. Eighteenth-Century Studies, vol. 40, no. 1, 2006, pp. 51–68.
Rogers, Pat. "Burney [married name D'Arblay], Frances [Fanny] (1752–1840), writer." Oxford Dictionary of National Biography. Oxford UP, 2006, https://doi.org/10.1093/ref:odnb/603.
Sabor, Peter, ed. The Subscription List to Frances Burney's Camilla, by Frances Burney. Burney Centre and Burney Society, 2003.
Salih, Sara. "Camilla in the Marketplace: Moral Marketing and Feminist Editing in 1796 and 1802." Authorship, Commerce and the Public: Scenes of Writing, 1750–1850, edited by E.J. Clery, Caroline Franklin, and Peter Garside. Palgrave Macmillan, 2002, pp. 120–35.
Sharren, Kandice. "The Texture of Sympathy: Narrating Sympathetic Failure in Frances Burney's Camilla and The Wanderer." European Romantic Review, vol. 28, no. 6, Nov. 2017, pp. 701–27.
Spedding, Patrick. A Bibliography of Eliza Haywood. New York: Routledge, 2004.
Thaddeus, Janice Farrar. Frances Burney: A Literary Life. London: MacMillan, 2000.
Further Reading
Burney, Frances. The Journals and Letters of Fanny Burney (Madame D'Arblay). Edited by Joyce Hemlow, 10 vols. Clarendon Press, 1972.
Civale, Susan. Romantic Women's Life Writing: Reputation and Afterlife. Manchester: Manchester UP, 2019.
Doody, Margaret Anne. Frances Burney: The Life in the Works. Rutgers UP, 1988.
Hazlitt, William. "Standard Novels and Romances." Rev. of The Wanderer, by Frances Burney. Edinburgh Review, Feb. 1815, pp. 320–38.
King, Heather. "Pictures of Women in Frances Burney's Cecilia and Camilla: How Cecilia Looks and What Camilla Sees." Beyond Sense and Sensibility: Moral Formation and the Literary Imagination from Johnson to Wordsworth. Edited by Peggy Thompson. Lewisburg. Bucknell UP, 2015, pp. 45–59.
Looser, Devoney. Women Writers and Old Age in Great Britain, 1750–1850. Johns Hopkins UP, 2008.
Rennhak, Katharina. "Tropes of Exile in the 1790s: English Women Writers and French Emigrants." European Romantic Review, vol. 17, no. 5, 2006, pp. 575–92.
Schellenberg, Betty A. The Professionalization of Women Writers in Eighteenth-Century Britain. Cambridge UP, 2005.
Zonitch, Barbara. Familiar Violence: Gender and Social Upheaval in the Novels of Frances Burney. Delaware UP, 1997.
This podcast draws on research supported by the Social Sciences and Humanities Research Council.