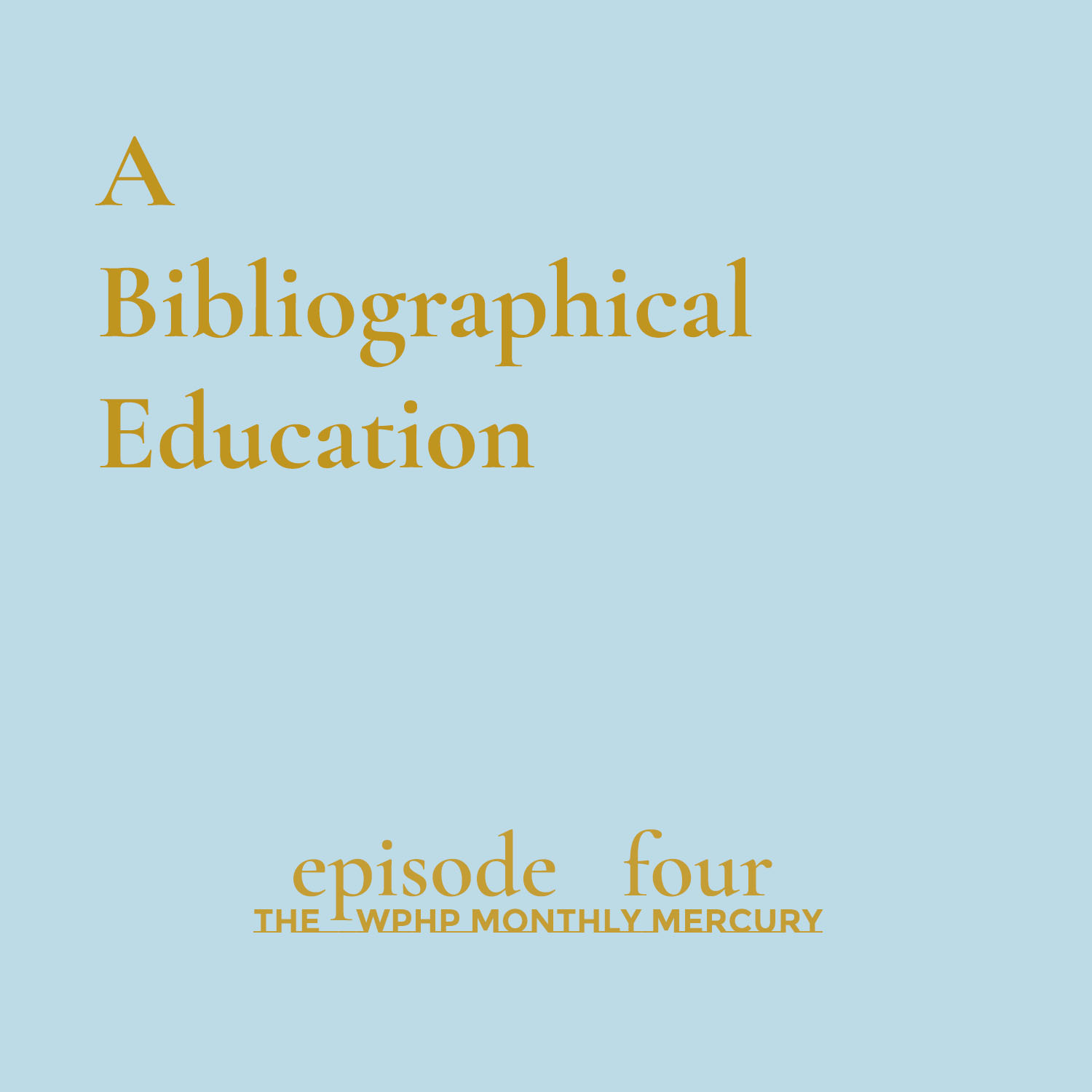 You can listen to Episode 4 of The WPHP Monthly Mercury, "A Bibliographical Education", on Apple, Spotify, Stitcher, Google Podcasts, and other podcast apps, available via Buzzsprout.
Depending on where you are, back to school looks a little different this year—some of us are returning to classrooms with new restrictions, some of us are teaching from home, and some of us are educating our own children or supporting their education with whatever resources we can muster.
It was in thinking about how teaching has taken all kinds of forms this year that we were reminded of the various works that fall under the "Education" genre in the WPHP, including letters from aunts to nieces advising them of how to best live their lives (hello, Hester Mulso Chapone's Letters on the improvement of the mind!), playful short works written to be read to and by children as young as three (Anna Laetitia Barbauld's Lessons for Children of Three Years Old holds literary gems), and didactic poetry about the dangers of sexual promiscuity (we're looking at you, Hannah More and the delightfully-titled Sinful Sally!).
In the fourth episode of The WPHP Monthly Mercury, "A Bibliographical Education", hosts Kandice Sharren and Kate Moffatt wander through the "Education" genre of the WPHP, exploring its variety of formats and styles, as well as its many adjacent genres - not least of which is the considerable "Juvenile Literature" genre, which past RA Reese Irwin cheerfully (and almost single-handedly) entered into the database. In this episode, Reese joins us to speak about the process of entering the majority of our 3200+ Juvenile Literature titles, Kate and Kandice do suitably dramatic readings of excerpts from a handful of educational texts from notable eighteenth-century authors, and we speak to the ways in which the many forms teaching has taken this year during COVID-19 has echoes of eighteenth-century educational practices and challenges.
If you're interested in learning more about the genres included in the WPHP, this list includes every genre used by the WPHP along with a working definition. If you click any of the hyperlinked genres they will produce a list of all title records assigned that genre in the database.
Guests:
Reese Irwin was a research assistant on the WPHP from 2016 to 2019; she was responsible for entering most of the children's literature in the database. She is the author of the forthcoming book chapter, "Elizabeth Newbery, Publisher and Bookseller in Her Own Right: A Case Study from The Women's Print History Project, 1750–1836," which will be published in Volume 1 of Women in Print, edited by Rose Roberto and Helen S. Williams. She has a Master's of English from Simon Fraser University, and has recently completed a Master's of Library Information Science at the University of British Columbia.
Credits:
Produced by: Kandice Sharren, Kate Moffatt, and Michelle Levy
Music: "Sweetest Bard", from Ignatius Sancho's Minuets, Cotillons & Country Dances for the Violin, Mandolin, German Flute, & Harpsichord Composed by an African (1767), from https://brycchancarey.com/sancho/music.htm. Played by Kandice Sharren.
WPHP titles in the order they are referenced:
Letters on the improvement of the mind (title)
Hester Mulso Chapone (person)
Mary Wollstonecraft (person)
Thoughts on the Education of Daughters (title)
Hannah More (person)
The story of Sinful Sally, told by herself (title)
A Vindication of the Rights of Woman (title)
Mary Prince (person)
The History of Mary Prince, a West Indian Slave (title)
Letters of the late Ignatius Sancho, an African (title)
Jane West (person)
Letters to a Young Lady (title)
Emily Taylor (person)
Letters to a child, on the subject of maritime discovery (title)
Maria Edgeworth (person)
Letters for Literary Ladies (title)
Clara Reeve (person)
Plans of Education (title)
Joseph Johnson (publisher)
Essays on Various Subjects (title)
Anna Laetitia Barbauld (person)
Lessons for Children of Three Years Old (title)
Charlotte Smith (person)
Rural walks in dialogues intended for the use of young persons (title)
John Newbery (publisher)
John Harris (publisher)
Elizabeth Newbery (publisher)
Elizabeth Newbery (person)
Journal of Captain Cook's last voyage to the Pacific Ocean (title)
The Comic Adventures of Old Mother Hubbard and her Dog: Illustrated with fifteen elegant engravings on copper-Plate. (title)
Sarah Catherine Martin (person)
Catherine Ann Turner Dorset (person)
The Peacock "at home" (title)
John Wallis (publisher)
The New Game of Human Life (title)
Frances Houlston and Son (publisher)
Frances Houlston (person)
Resources:
Darton, Lawrence. The Dartons: An Annotated Check-List of Children's Books Issued by Two Publishing Houses 1787-1876. The British Library Publishing Division, 2004.
Roscoe, Sydney. John Newbery and His Successors, 1740-1814. Five Owls Press, 1973.
Toronto Public Library. "The Osborne Collection of Early Children's Books." https://www.torontopubliclibrary.ca/osborne/.
Works Cited:
Guest, Harriet. Small Change: Women, Learning, Patriotism, 1750–1810. Chicago: Chicago University Press, 2000.
Irwin, Reese. "Elizabeth Newbery, Publisher and Bookseller in Her Own Right: A Case Study from The Women's Print History Project, 1750–1836." Published in Women in Print: Design and (re)construction of personal histories (Volume 1), edited by Rose Roberto and Helen S. Williams, Oxford: Peter Lang Ltd, approved 2020 [forthcoming].
Markel, Michelle. Balderdash! John Newbery and the Boisterous Birth of Children's Books. Chronicle Books, 2017.
Moon, Marjorie. John Harris's Books for Youth 1801-1843: Being a Check-list of Books for Children and Young People Published for Their Amusement and Instruction by John Harris and His Son, Successors to Elizabeth Newbery, Including a List of Games and Teaching Toys. A. Spilman, 1976.
Rovee, Christopher. "The New Game of Human Life, 1790." BRANCH: Britain, Representation and Nineteenth-Century History. Ed. Dino Franco Felluga. Extension of Romanticism and Victorianism on the Net. http://www.branchcollective.org/?ps_articles=christopher-rovee-the-new-game-of-human-life-1790.
Shefrin, Jill. "Newbery, Elizabeth (1745/6–1821), bookseller and publisher." Oxford Dictionary of National Biography. Oxford University Press, 2004. https://www-oxforddnb-com.ezproxy.library.ubc.ca/view/10.1093/ref:odnb/9780198614128.001.0001/odnb-9780198614128-e-63579.
Further Reading:
Ahmed, Sara. Willful Subjects. Duke University Press, 2014.
Clark, Norma. "The cursed Barbauld Crew: Women Writers and Writing for Children in the Late Eighteenth Century." In Opening the Nursery Door: Reading, Writing, and Childhood, 1600–1900. Edited by Mary Hilton, Morag Styles, and Victor Watson. Routledge, 1997: pp. 91–103.
Davies, Rebecca. Written Maternal Authority and Eighteenth-Century Education in Britain: Educating by the Book. Routledge, 2016.
Dolan, Elizabeth A. Seeing Suffering in Women's Literature of the Romantic Era. Ashgate 2008.
Elliott, Dorice Williams. "The Care of the Poor Is Her Profession: Hannah More and Women's Philanthropic Work". Nineteenth-Century Contexts. 19.2 (1995): pp. 179–204.
Fauske, Chris and Heidi Kaufman, eds. An Uncomfortable Authority: Maria Edgeworth and her Contexts. University of Delaware Press, 2004. Print.
Gilmartin, Kevin. "'Study to be Quiet': Hannah More and the Invention of Conservative Culture in Britain." ELH 70 (Summer 2003): pp. 493–540.
Grathwol, Kathleen B. "Maria Edgeworth and the 'True Use of Books' for Eighteenth-Century Girls." In New Essays on Maria Edgeworth. Ed. Julie Nash. Aldershot; Ashgate, 2006.
Habermas, Jürgen. The Structural Transformation of the Public Sphere: An Inquiry into a Category of Bourgeois Society. Trans Thomas Burger and Frederick Lawrence. MIT Press, 1991.
Hilton, Mary. Women and the Shaping of the Nation's Young: Education and Public Doctrine in Britain, 1750–1850. Ashgate, 2007.
Levy, Michelle. Family Authorship and Romantic Print Culture. Palgrave Macmillan, 2008.
Myers, Mitzi. "Romancing the Moral Tale: Maria Edgeworth and the Problematics of Pedagogy." In Romanticism and Children's Literature in Nineteenth-Century England. Ed. James Holt McGavran. University of Georgia Press, 1991.
Narain, Mona. "Not the Angel in the House: Intersections of the Public and Private in Maria Edgeworth's Moral Tales and Practical Education." In New Essays on Maria Edgeworth. Ed. Julie Nash. Ashgate, 2006.
Richardson, Alan. "Mary Wollstonecraft on Education." In The Cambridge Companion to Mary Wollstonecraft. Cambridge University Press, 2002: pp. 24–41.
Robbins, Sarah. "Lessons for Children and Teaching Mothers: Mrs. Barbauld's Primer for the Textual Construction of a Middle-Class Domestic Pedagogy." The Lion and the Wardrobe 17.2 (December 1993): pp. 135–51.
Stott, Anne. Hannah More: The First Victorian. Oxford University Press, 2003.
Wharton, Joanna. Material Enlightenment: Women Writers and the Science of Mind, 1770–1830. Boydell Press, 2018.
This podcast draws on research supported by the Social Sciences and Humanities Research Council.