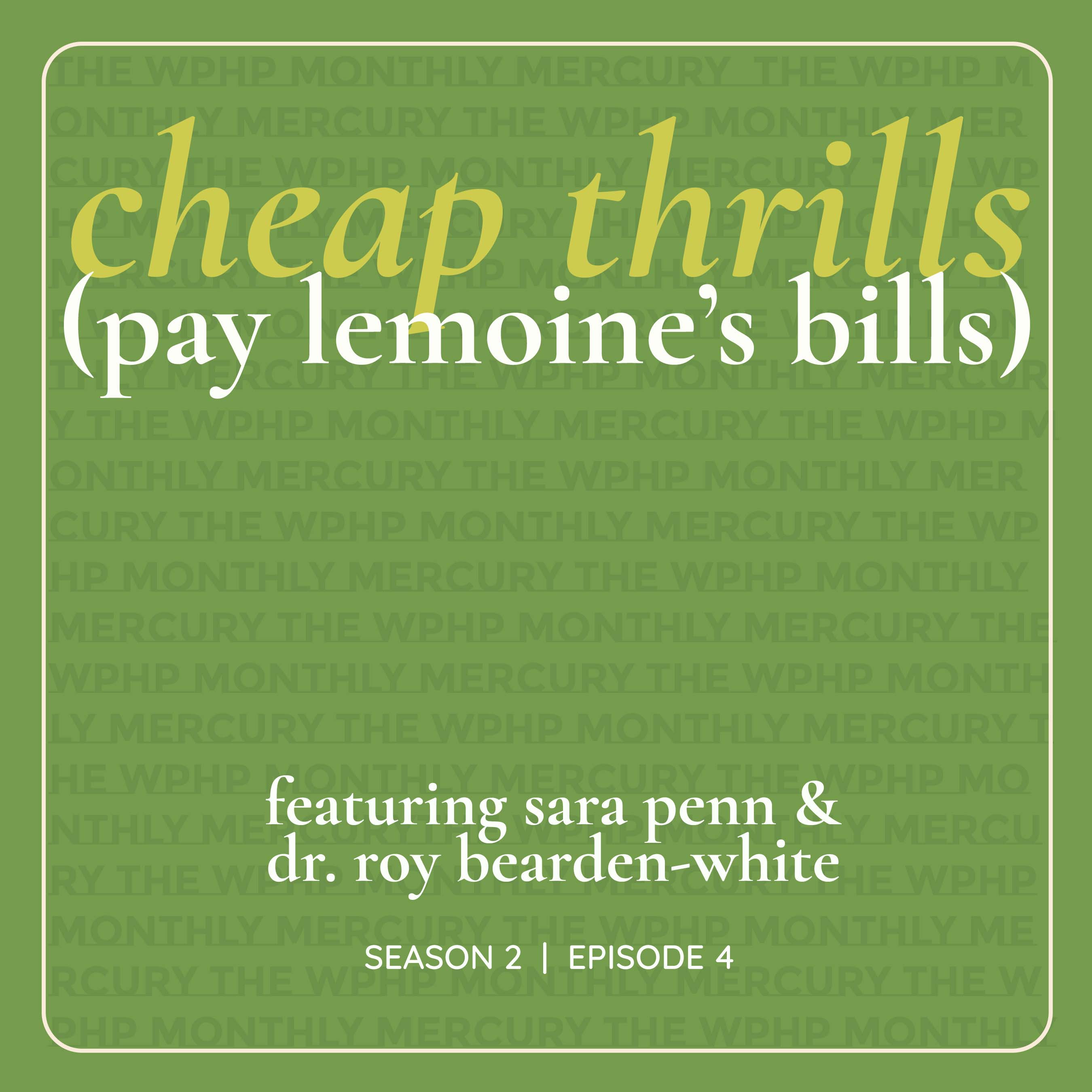 You can listen to the fourth episode of Season 2 of The WPHP Monthly Mercury, "Cheap Thrills (Pay Lemoine's Bills)", on Apple, Spotify, Stitcher, Google Podcasts, and other podcast apps, available via Buzzsprout.
In 1794, Ann Lemoine's husband, Henry, who was an author and publisher, went to debtor's prison—this led to their separation, and the following year, Ann Lemoine began her own publishing business in White Rose Court in London. Between 1795 and the early 1820s, it is estimated that Ann Lemoine published, printed, and sold more than 400 titles, and explored new and inventive ways of packaging and reselling the cheap print she was known for publishing: chapbooks.
In Episode 4 of Season 2, "Cheap Thrills (Pay Lemoine's Bills)", hosts Kate Moffatt and Kandice Sharren are joined by WPHP Research Assistant Sara Penn, who undertook entering the many titles Lemoine published, printed, and sold into the database and has become our resident Lemoine expert. We share some of Sara's conversation with Dr. Roy Bearden-White, explore the history of the chapbook — including the difficulties of defining the term itself — and the significance of cheap print, the challenges of including it in the database, and the hours of invisible labour involved in working with female publishers, printers, or booksellers, or forms of print that are lacking in bibliographical sources.
Guests:
Sara Penn is a second-year MA Candidate in SFU's Department of English. Her primary interests are in Romantic-era British literature, women in the literary marketplace, print culture, and digital humanities. She has been the WPHP's most troublesome RA since 2018.
During the day, Dr. Roy Bearden-White works at South Plains College in Levelland, Texas. After hours, Dr. Roy works on discovering, editing, and publishing important, hard to find texts that would work well in a classroom setting.
Credits:
Produced by: Kate Moffatt, Kandice Sharren, and Michelle Levy
Music by: Ignatius Sancho, "Sweetest Bard", A Collection of New Songs (1769) from https://brycchancarey.com/sancho/bard.jpg, and played by Kandice Sharren
WPHP Monthly Mercury Episodes Referenced
Season 1, Episode 4: "A Bibliographical Education"
Season 1, Episode 5: "Of Monks and Mountains!!!"
Season 2, Episode 3: "Around the World with Six Women"

WPHP Records Referenced
Ann Lemoine (firm, publisher)
Henry Lemoine (firm, publisher)
Mrs. Vertue (firm, bookseller and printer)
Alice Reilly (firm, printer)
Elizabeth Watts (firm)
Ann Rivington (firm, printer)
Radcliffe, Ann (person, author)
John Bailey (firm, publisher and printer)
Thomas Tegg (firm, publisher)
Wilkinson, Sarah (person, author)
Amelia; or, The Interesting History of a Lovely Female in Married Life. Epitomized by Sarah Scudgell Wilkinson (title)
Minerva Press (firm, publisher)
The Strange and Unaccountable Life of the Penurious Daniel Dancer (title)
The Heart of Oak (title)
English Nights Entertainments (title)
The Art of Cookery: Made Plain and Easy (title)
The Little White Mouse (title)
Little Thumb; or, Seven League Boots (title)
Authentic Memoirs of Phebe Phillips (title)
Thomas Hurst (firm, bookseller)
Longmans (firm, publisher)
Thomas Maiden (firm, printer)
John Roe (firm, publisher)
More, Hannah (person, author)
The story of Sinful Sally (title)
The Canterbury Tales (title)
The Haunted Castle (title)
The Magdalen; or, History of the First Penitent Prostitute Received Into That Charitable Asylum (title)
The Fair Wanderer; or, The History of Caroline Dormer, A Reformed Prostitute (title)
Elizabeth Newbery (firm, publisher and bookseller)
Dartons (firm, publisher)

WPHP Sources
Eighteenth Century Collections Online
Non-Conformist and Dissenting Women Writers, 1650-1850 (the project can be found here)
Works Cited
Barnes, James J, and Patience P. Barnes. "Reassessing the Reputation of Thomas Tegg, London Publisher, 1776-1846." Book History, vol. 3, 2000, pp. 45–60.
Bearden-White, Roy. How the Wind Sits; or, the History of Henry and Ann Lemoine, Chapbook Writers and Publishers of the Late Eighteenth Century. 2007. Southern Illinois University, Carbondale. M.A. Thesis.
Feather, John. A Dictionary of Book History. Croom Helm, 1986.
Koch, Angela. "'The Absolute Horror of Horrors' Revised: A Bibliographical Checklist of Early-Nineteenth-Century Gothic Bluebooks." Reading the Romantic Text, no. 9, December 2002, http://www.romtext.org.uk/reports/cc09_n03/
Mandal, Anthony. "Gothic Fiction, from Shilling Shockers to Penny Bloods." The Cambridge History of the Gothic, edited by Dale Townshend and Angela Wright, Cambridge UP, 2020, pp. 139–61.
Neuburg, Victor. "Chapbooks in America: Reconstructing the Popular Reading of Early America." In Reading in America: Literature & Social History, edited by Cathy N. Davidson, Johns Hopkins UP, 1989, pp. 81–113.
Newcomb, Lori Humphrey. "What is a Chapbook?" Literature and Popular Culture in Early Modern England, edited by Matthew Dimmock and Andrew Hadfield, Taylor & Francis, 2016, pp. 71–86.
Potter, Franz J. Gothic Chapbooks, Bluebooks and Shilling Shockers, 1797–1830. U of Wales P, 2021.
Potter, Franz J. The History of Gothic Publishing, 1800–1835. Palgrave Macmillan UK, 2005.
Further Reading
Bearden-White, Roy. "A History of Guilty Pleasure: Chapbooks and the Lemoines." The Papers of the Bibliographical Society of America, vol. 103, no. 3, September 2009, pp. 284–318.
Hoeveler, ​​Diane Long. Gothic Riffs: Secularizing the Uncanny in the European Imaginary, 1780–1820. Ohio State University Press, 2010.
Levy, Michelle. "Female Booksellers at the End of the Long Eighteenth Century." Women in Book History, 1660-1830, special issue of the Huntington Library Quarterly, edited by Betty A. Schellenberg and Michelle Levy, vol 84, no. 1, Spring 2021, pp. 99–112.
Moffatt, Kate, and Kandice Sharren. "Absence and Feeling: Documenting Invisible Labour on the Women's Print History Project." Digital Studies/le Champ Numérique, vol. 11, no. 1, http://doi.org/10.16995/dscn.375
Ozment, Kate. "Rationale for Feminist Bibliography." Textual Cultures, vol. 13, no. 1, Spring 2020, pp. 149–78.
This podcast draws on research supported by the Social Sciences and Humanities Research Council.