2018 was a busy year for WPHP! From April 21 to May 6, 2018, Michelle, Kandice, Kate, and Reese went to London to conduct research in the British Library. At the BL, we hand-verified titles which hadn't been digitized, systematically going through a list of titles from the database that had not yet been verified by a second source. We requested all the titles we could from the British Library catalogue and collectively examined hundreds of women's books, creating metadata from our careful study of the physical materials. Thank you to the BL staff for increasing our daily limits, and meeting our requests with such good humour and grace.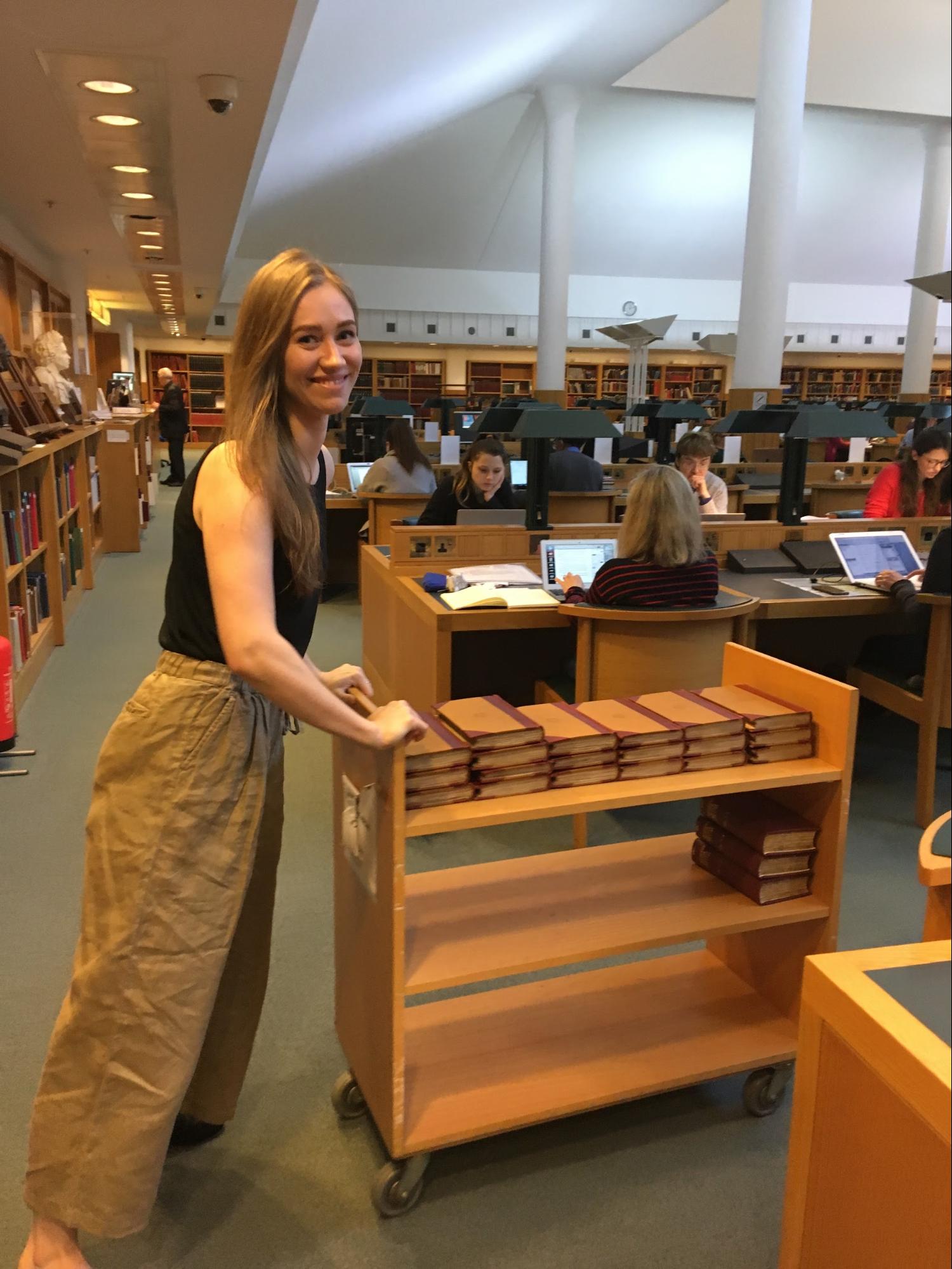 Kate at the British Library, working on Cumberland's British Theatre (1829); check out the title record, which is by far one of our longest!
On August 15-17, Michelle and Betty Schellenberg hosted a Women in Book History Symposium, 1660-1836 at the Sylvia Hotel in Vancouver. Michelle presented a paper on three female-run firms active from 1780 to 1820, with data from The Women's Print History Project. The three female booksellers she surveyed are Anne Lemoine (fl. 1786-1820), a chapbook publisher, Martha Gurney (1733–1816), an abolitionist activist and bookseller, and Elizabeth Newbery (1745/6–1821), a bookseller of juvenile and adult literature. Michelle used our firm data, which Kate Moffat has been working on extensively over the past year, as well as research on these three women's books from recent visits to the British Library and to the Houghton Library, where she has has a Fellowship in 2018-2019. Lemoine, Gurney and Newbery were astonishingly productive: combined, these three women alone produced at least a thousand separate titles over a space of a few decades. An examination of just three female booksellers of the hundreds that were active in our period, suggests just how much work remains to be done.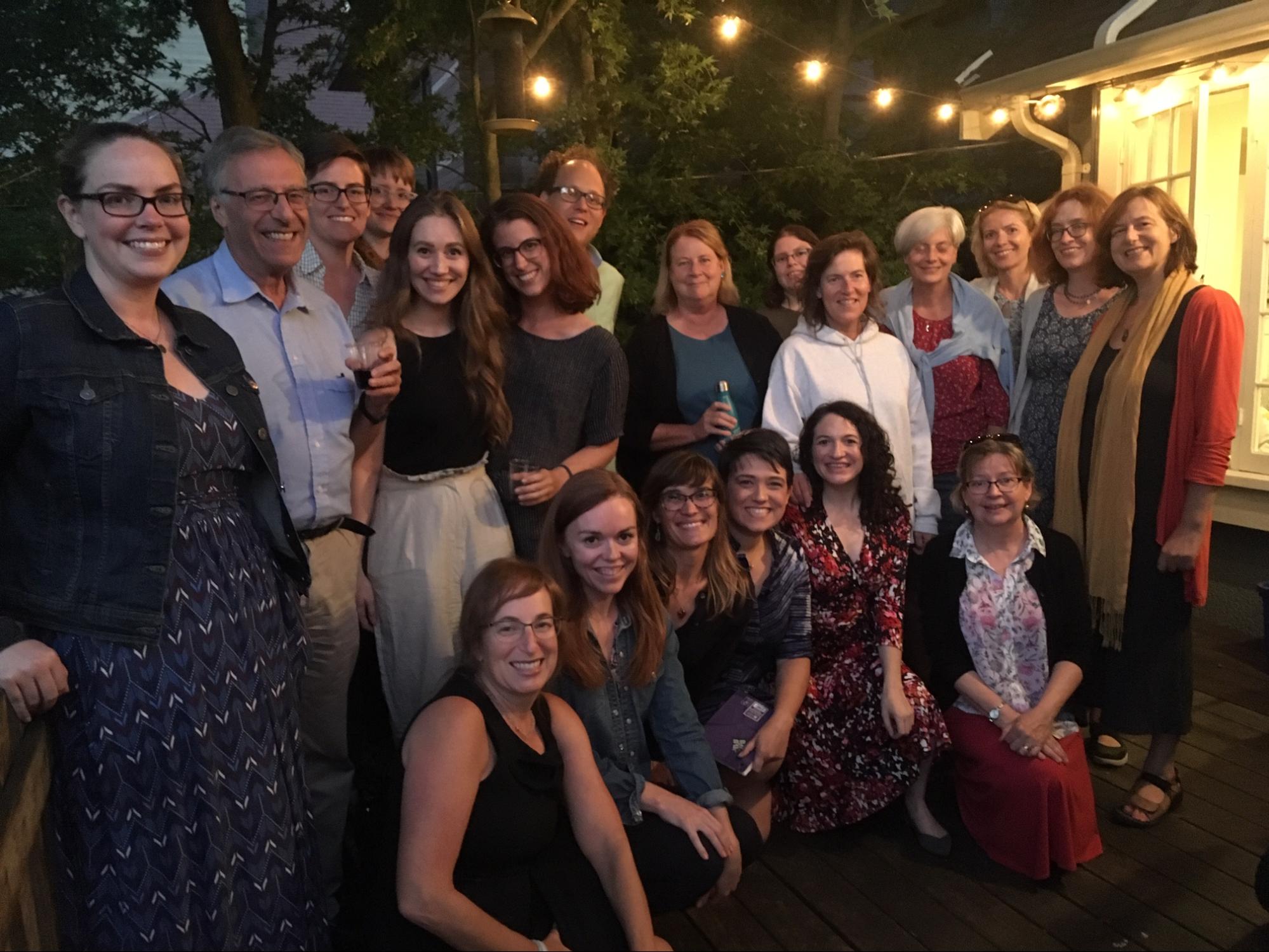 Women in Book History Symposium
, Vancouver, BC, August 17, 2018 (back row, from left to right, Rebecca Dowson, Peter Sabor, Kate Ozment, Catherine Nygren, Kate Moffat, Kandice Sharren, Andrew Winckles, Margaret Ezell, Cait Coker, Laura Runge, Nicole Pohl, Melanie Bigold, Pam Perkins, Emma Clery; front row, left to right, Michelle Levy, Rachael King, Kirstyn Leuner, Emily Friedman, Megan Peiser, Betty Schellenberg)
Finally, Kandice, Kate, Reese and Michelle presented as a panel at the Women in Print: Production, Consumption and Distribution conference, held in Birmingham on September 13-14, 2018. This conference sought to bring together contemporary women makers (women designing type, printing books, or conducting projects related to print) and women involved in print history. Michelle discussed the female authors of the publisher John Murray, using correspondence in the John Murray Archive, National Library of Scotland and data from The Women's Print History Project; Kandice and Kate co-presented on their strategies and processes for recovering female firms for The Women's Print History Project database; and Reese gave a talk on the female publisher Elizabeth Newbery.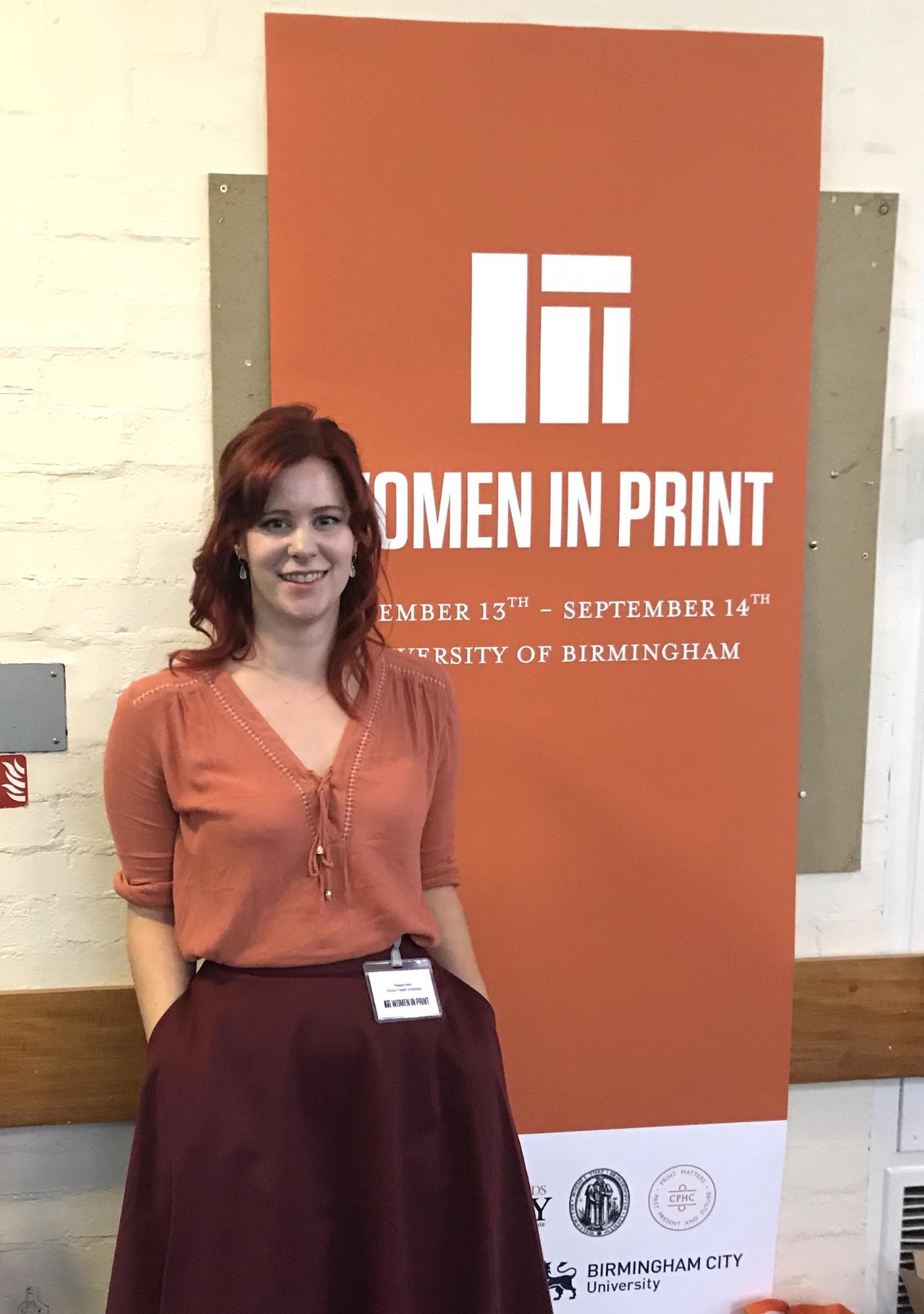 Reese, colour-co-ordinated in front of the amazing
Women in Print
conference poster!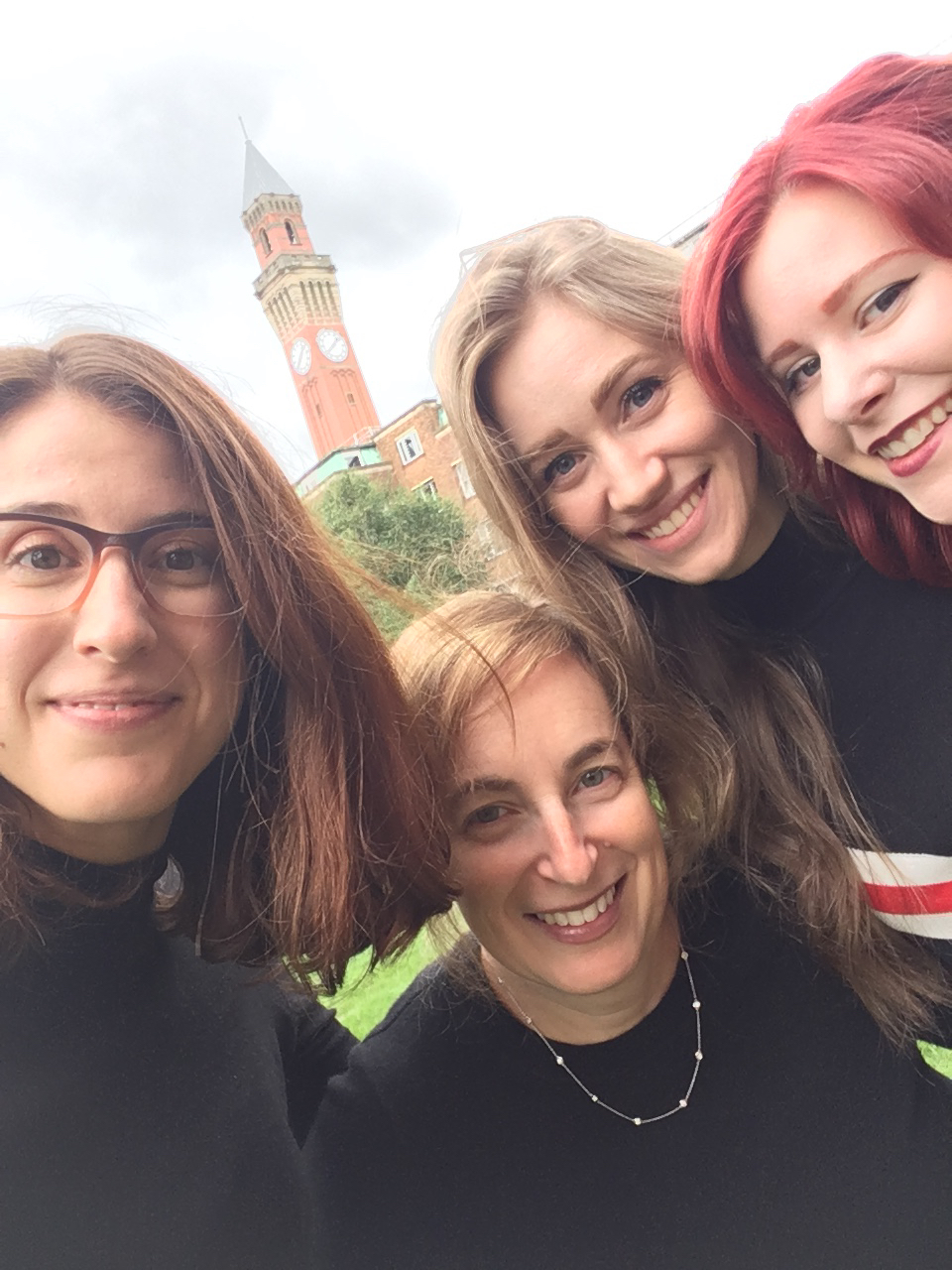 From left to right, Kandice, Michelle, Kate and Reese, at the
Women in Print
Conference, with the iconic campanile of the University of Birmingham, "Old Joe," behind us, September 14, 2018