Our 2018–2021 Year in Reviews can be found here.
Although it was by no means without its hiccups, 2021 was a wonderfully productive year for the WPHP. Continuing to collaborate online, the team welcomed several new faces to our rapidly growing community.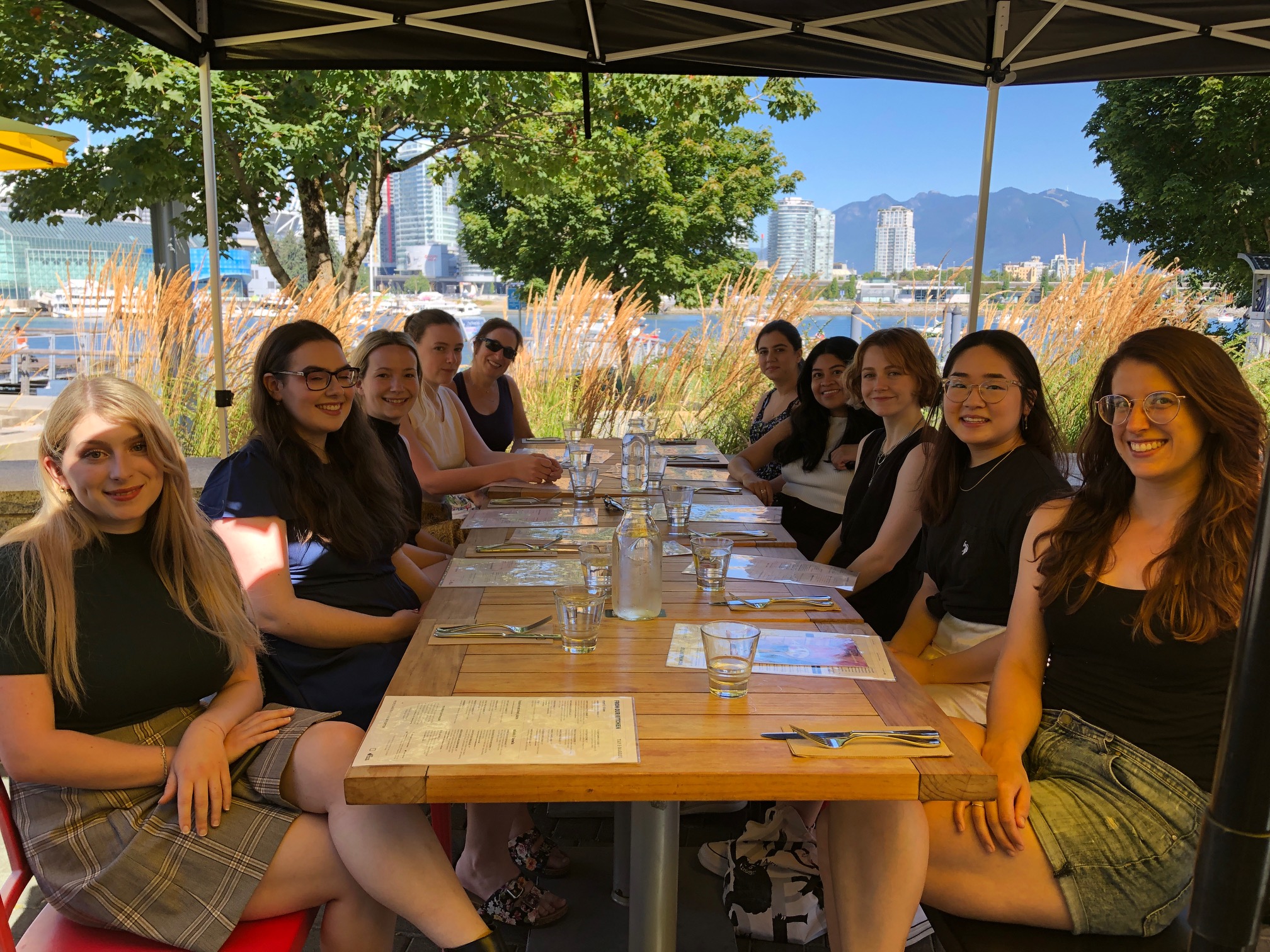 The team, regrettably sans Kate Moffatt, Aylar Adeh, and Caelen Campbell, enjoys a summer lunch along clear Vancouver waters. From back left: Michelle Levy, Isabelle Burrows, Victoria DeHart, Julianna Wagnar, and Belle Eist. And from back right: Hanieh Ghaderi, Sara Penn, Angela Wachowich, Amanda Law, and Kandice Sharren.
Joining us at the beginning of January was fourth-year Humanities student, Isabelle Burrows, whose passion for fashion informed her spotlight on the (literal) face of WPHP. Isabelle further extended her talents for us by meticulously designing beautiful swag. Her designs can be found on WPHP totes, notebooks, and cards.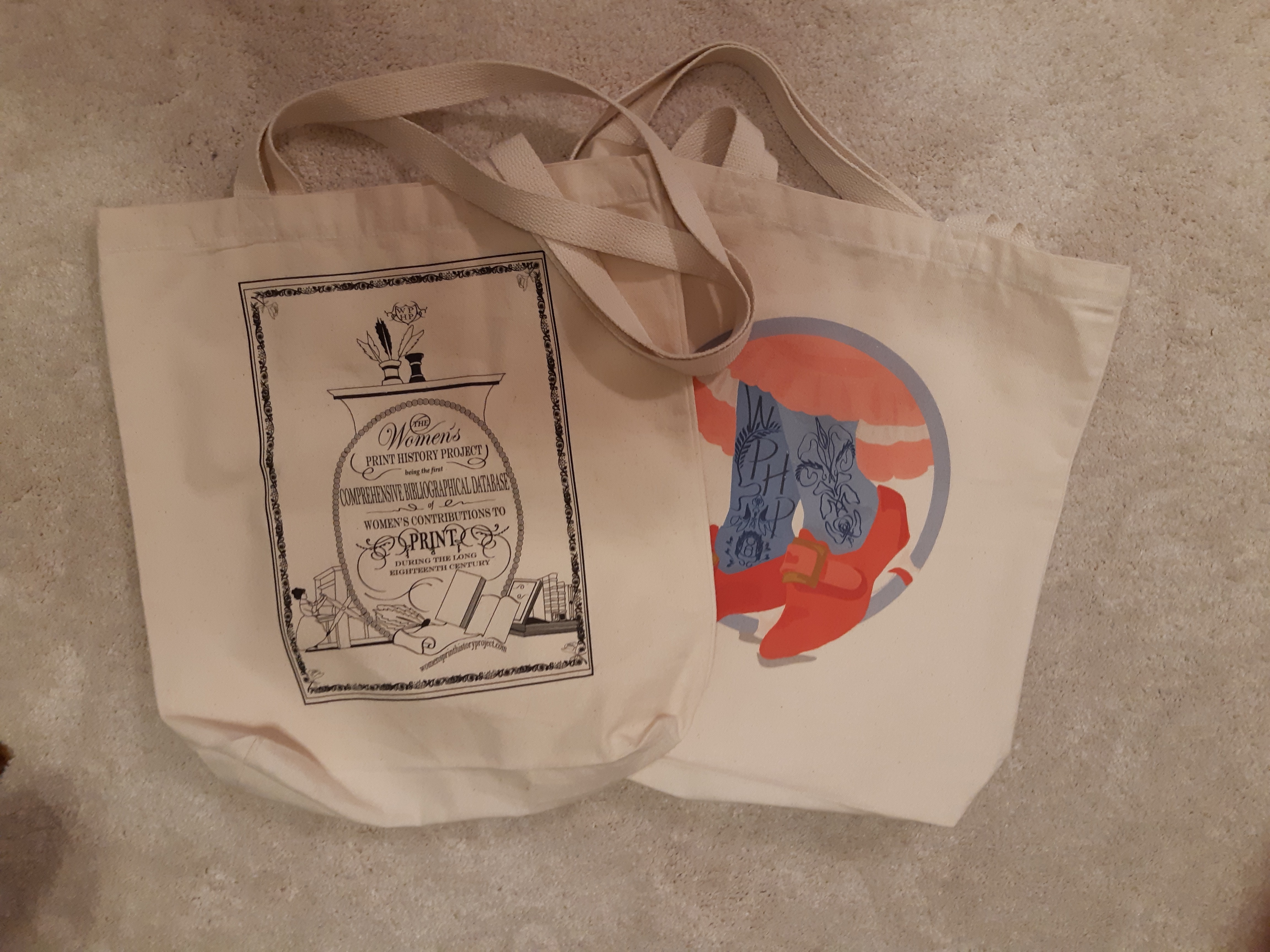 May introduced us to Angela Wachowich and Julianna Wagnar, two fourth-year undergraduates whose interests in queer writers and Scottish travel writing was featured in their respective spotlights on Charles Geneviève Louis Auguste André Timothée d'Éon de Beaumont and Elizabeth Isabella Spence.
September then welcomed Aylar Adeh, a PhD candidate in Education who maintains our exponentially unruly list of Titles. Also joining us was Belle Eist, an English undergraduate student whose interest in female-run firms brought to our attention to publisher Ann Vernor.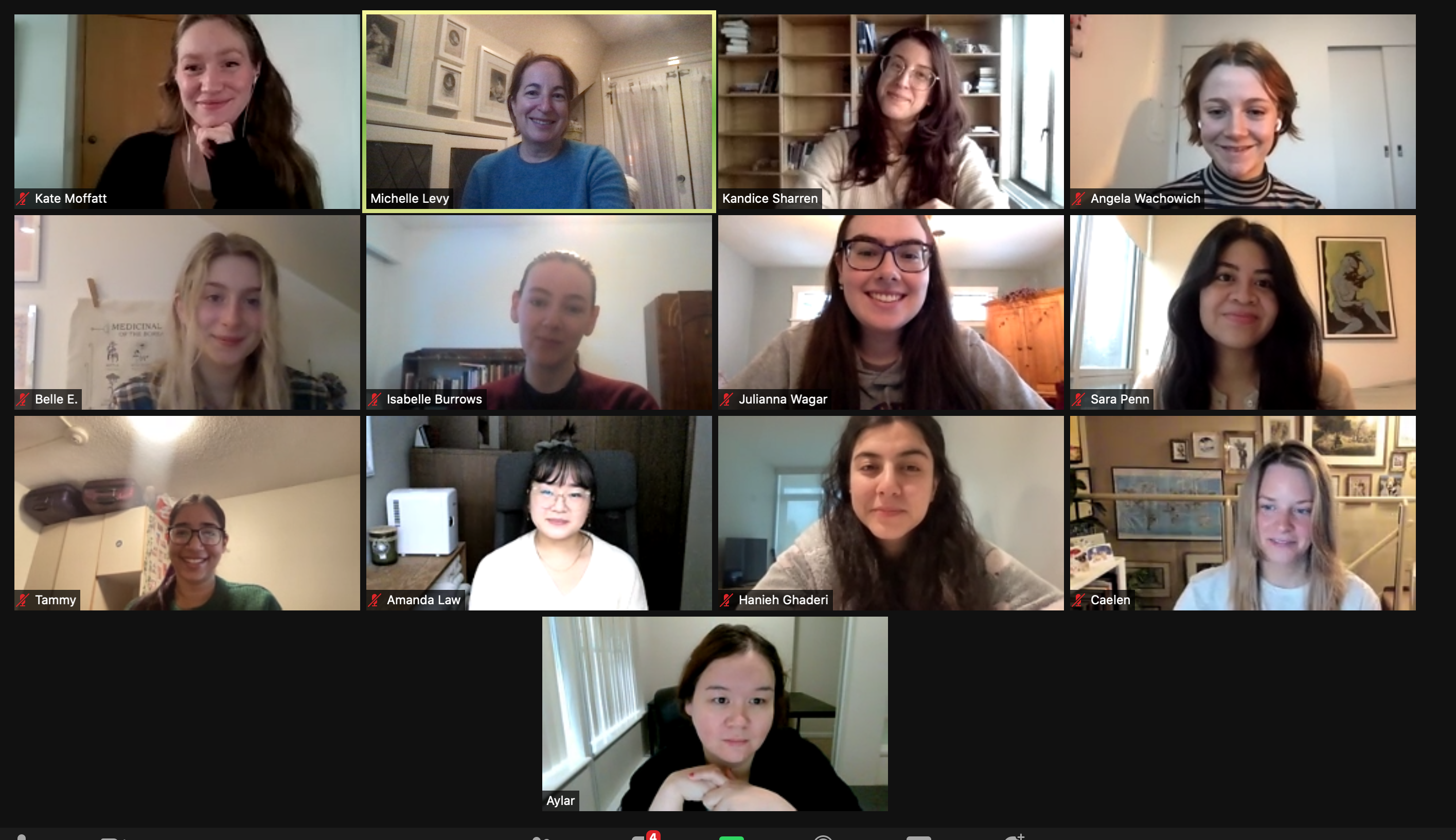 Smiling for the camera, from the top left to the bottom middle, are: Kate Moffatt, Michelle Levy, Kandice Sharren, Angela Wachowich, Belle Eist, Isabelle Burrows, Julianna Wagner, Sara Penn, incoming RA Tammy T., Amanda Law, Hanieh Ghaderi, Caelen Campbell, and Aylar Adeh.
September also witnessed the shiny, revived interface of our database thanks to our inimitable developers, Joey Takeda and Michael Joyce. We hope that WPHP users enjoy our new colours, fonts, and functions during their perusal of women's book history. Our new headers, for example, allow for easier access to our Spotlights, or, in other words, blog posts on our data, such as our Women & History Spotlight Series and Travel Writing Spotlight Series.
The wrap up of Season 1 of our WPHP Monthly Mercury Podcast featured special guests Kerri Andrews, Betty A. Schellenberg, and Kate Ozment. Season 2 began in June and starred Kirstyn Leuner, Roy Bearden-White (alongside our very own Sara Penn!), and Lawrence Evalyn.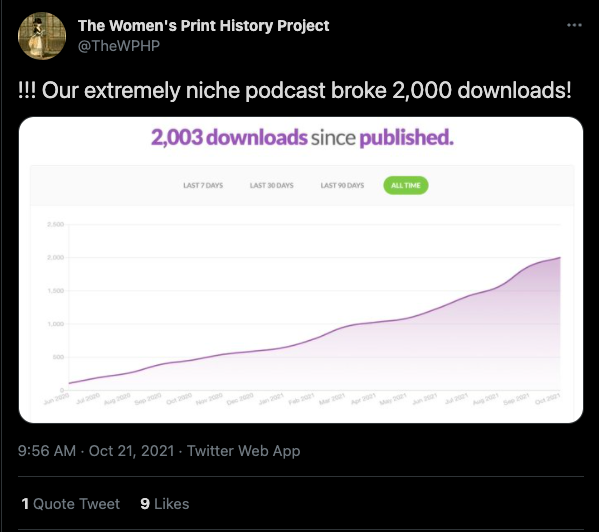 Is business booming, you ask? Yes. Yes, it is.
Julianna's very important question – 'why don't we ever read the books in WPHP?' – led to our very first Summer Read-a-Thon. Our humble suggestions included Ann Radcliffe's A Sicilian Romance, Rebecca Rush's Kelroy, Mary Wollstonecraft's Letters Written During a Short Residence in Sweden, Norway, and Denmark, and Amelia Opie's Detraction Displayed.
Twiddling your thumbs hoping to read more? Look no further than our Publications page, dear reader, which received an astonishing update of 6 publications with 3 forthcoming articles by Michelle, Kandice, Kate, contributing scholar, Kate Ozment, and former RA, Reese Irwin.
Michelle and Betty A. Schellenberg's highly anticipated monograph on manuscript studies, How and Why to Do Things with Eighteenth-Century Manuscripts, was released in November. We would also like to extend a special congratulations to Betty for her official induction into the Royal Society of Canada. Her achievements in women's writing, book history, and coterie networks continue to inspire us all.
Presenting virtually (and for the first time!) at the annual Canadian Society of Eighteenth-Century Studies conference was Angela, whose work on manuscript studies was largely inspired by her RA work on Betty's newly launched database, Manuscript Verse Miscellanies, 1700–1820. Cheering her on was Sara, who presented the early stages of her MA project on Ann Lemoine's chapbooks at the cruel hour of 5:30AM PST. Her research has since won this year's International Research Development Grant for BIPOC Scholars from the Society for the History of Authorship, Reading, and Publishing (SHARP). Congratulations, Sara!
And awakening from their hibernation are our Twitter, Instagram, and Facebook accounts––thanks to Amanda Law and Kandice for keeping us hilariously informed. Don't forget to follow us for updates on our data, team, and dismantling book history's patriarchy.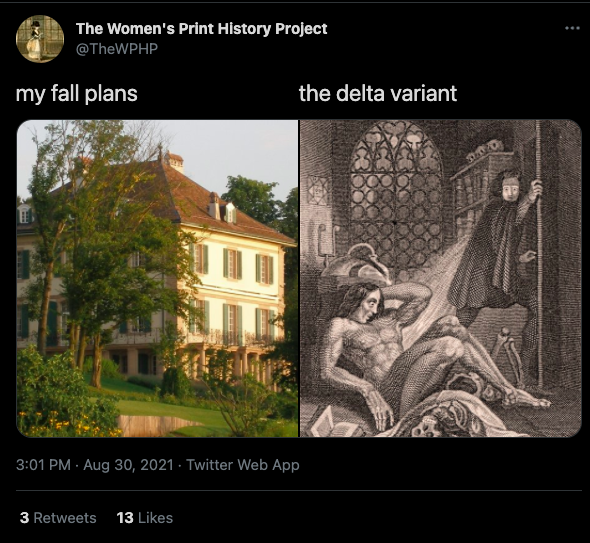 Tweet us @TheWPHP!
As a result of a Short-Term Fellowship from the American Antiquarian Society in Boston, November left us with a Kandice-shaped hole in our hearts. Fortunately, she brought back with her 6,000 American titles for the team to final-check. Thanks, Kandice! (Sort-of.)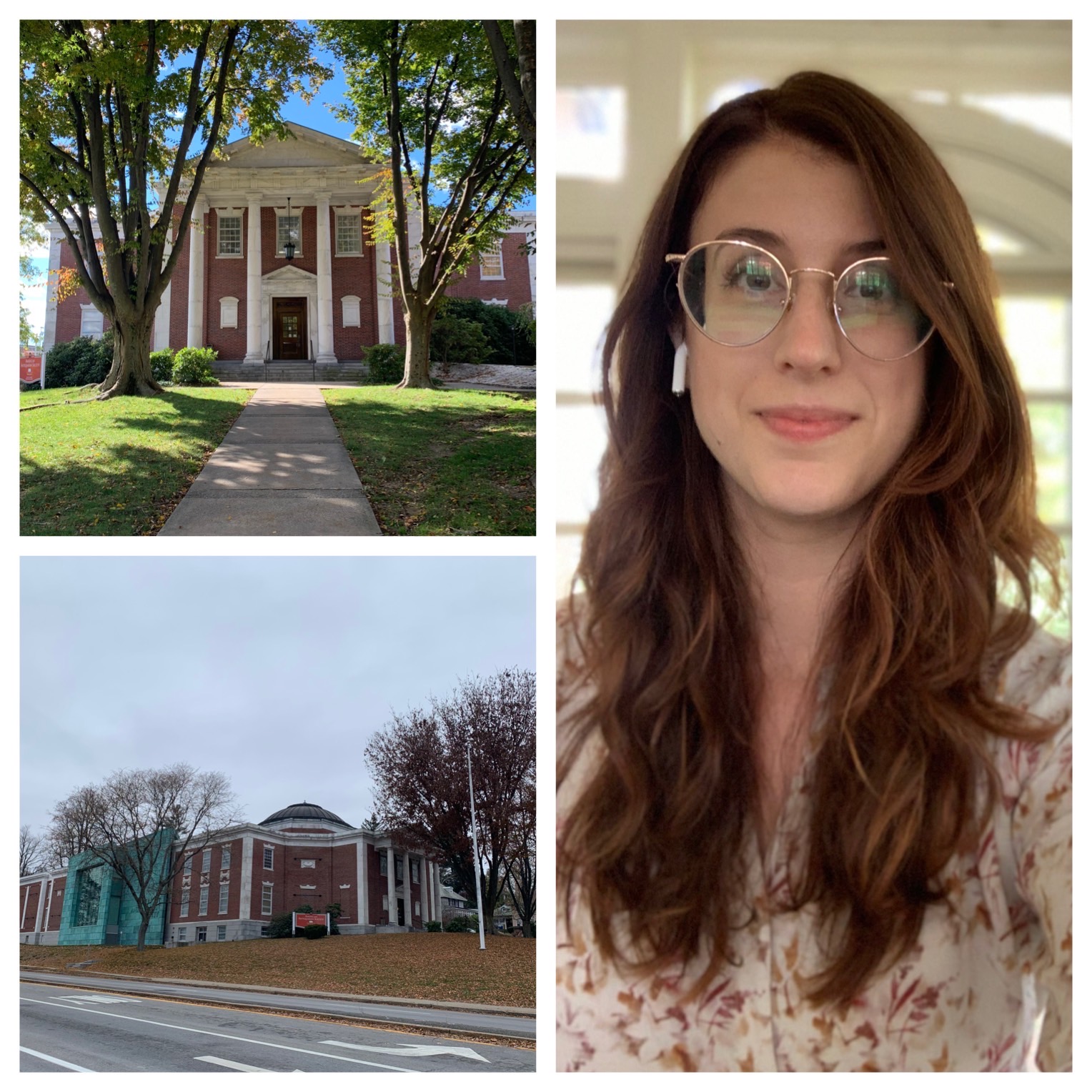 Kandice undertook her fellowship a few steps away from the generous dome. (No context necessary; if you know, you know.)
In further bittersweet news, please join us in congratulating Kandice who will be taking up a three-year project on the economics of the Georgian theater as a Postdoctoral Fellow at the National University of Ireland, Galway. Her role as Project Manager, for which she has undertaken for the past 7 years (!), will be redirected to the fabulous Lead Firms Editor Kate Moffatt.
We are quite certain that Kate and her glossy podcast voice will remain with us for at least a few years longer, given that she has been accepted to the doctoral program at SFU's Department of English. Please never leave us, Kate!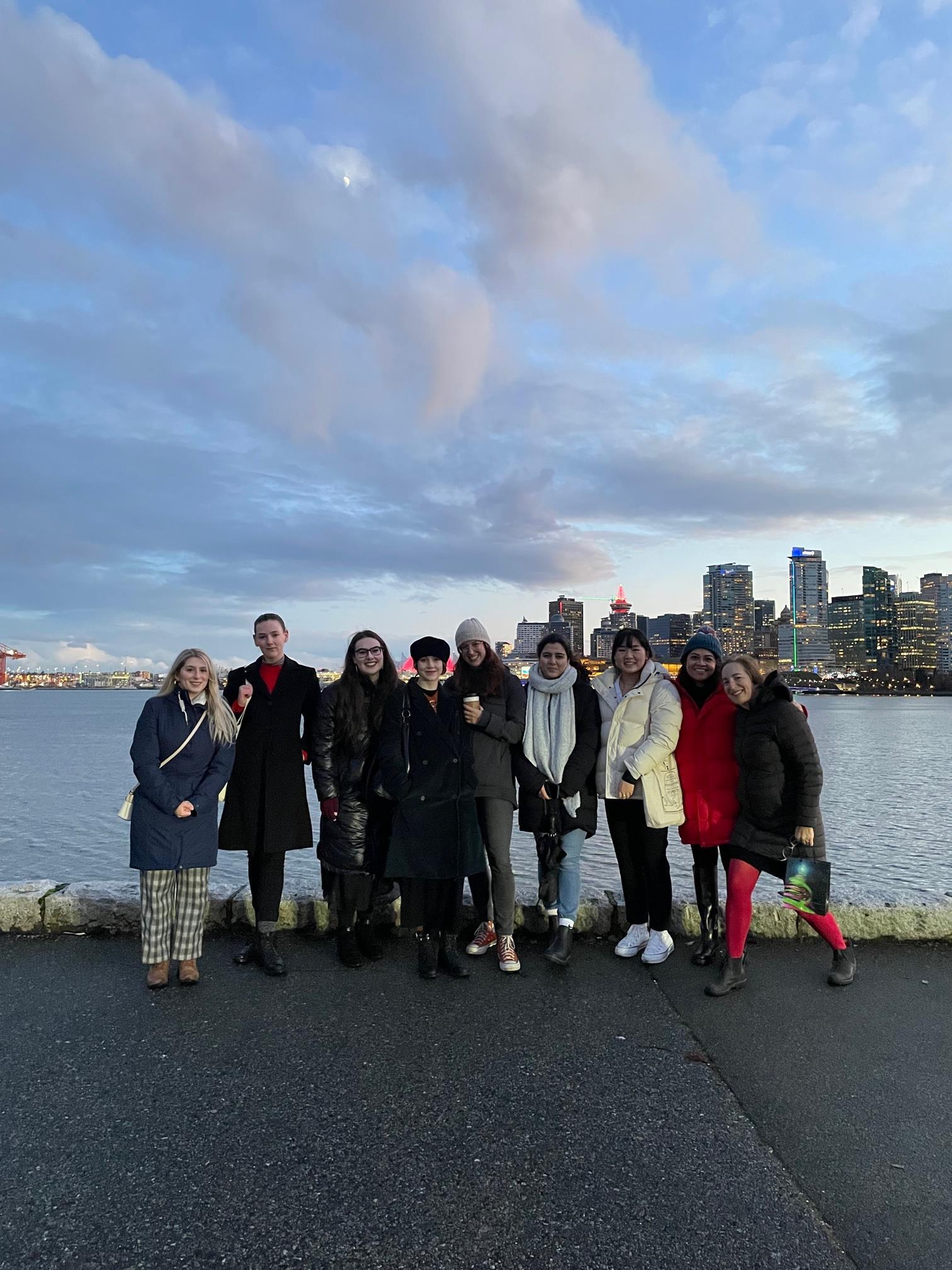 The WPHP team (again sans Kate, Aylar, and Caelen) enjoys a December stroll along Stanley Park. From left to right: Belle Eist, Isabelle Burrows, Julianna Wagnar, Angela Wachowich, Kandice Sharren, Hanieh Ghaderi, Amanda Law, Sara Penn, and Michelle Levy.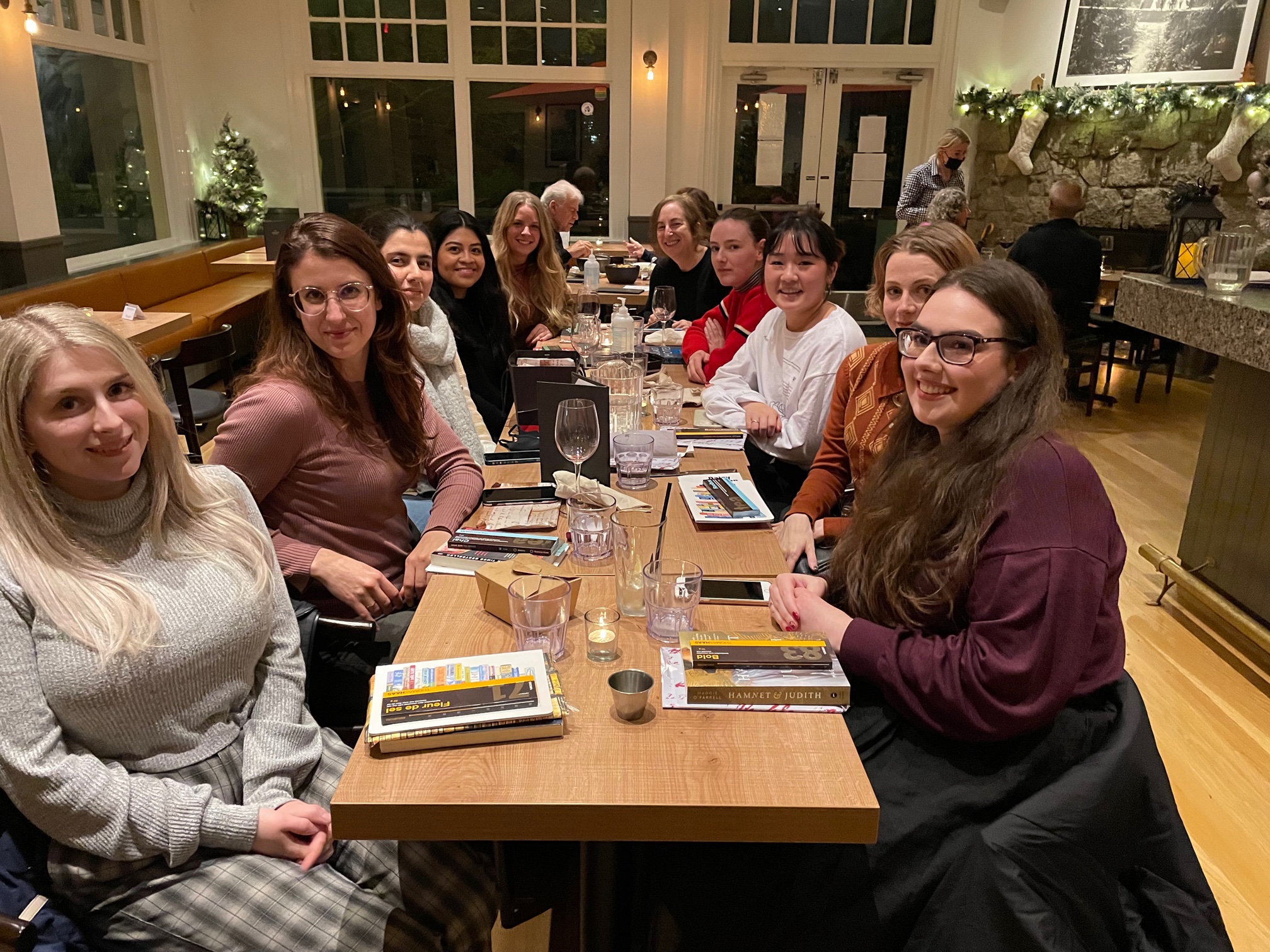 And spreading holiday cheer, the team enjoys their books and chocolates courtesy of Michelle. From back left: Caelen Campbell, Sara Penn, Hanieh Ghaderi, Kandice Sharren, and Belle Eist. And from back right: Michelle Levy, Isabelle Burrows, Amanda Law, Angela Wachowich, and Julianna Wagnar.
Lastly, and undoubtedly most importantly, it would not be a proper Year in Review without an update on our beloved Tessa who keeps us motivated during Vancouver's blustery weather. Please enjoy this series of poses by WPHP's muse, mascot, and most energetic team member: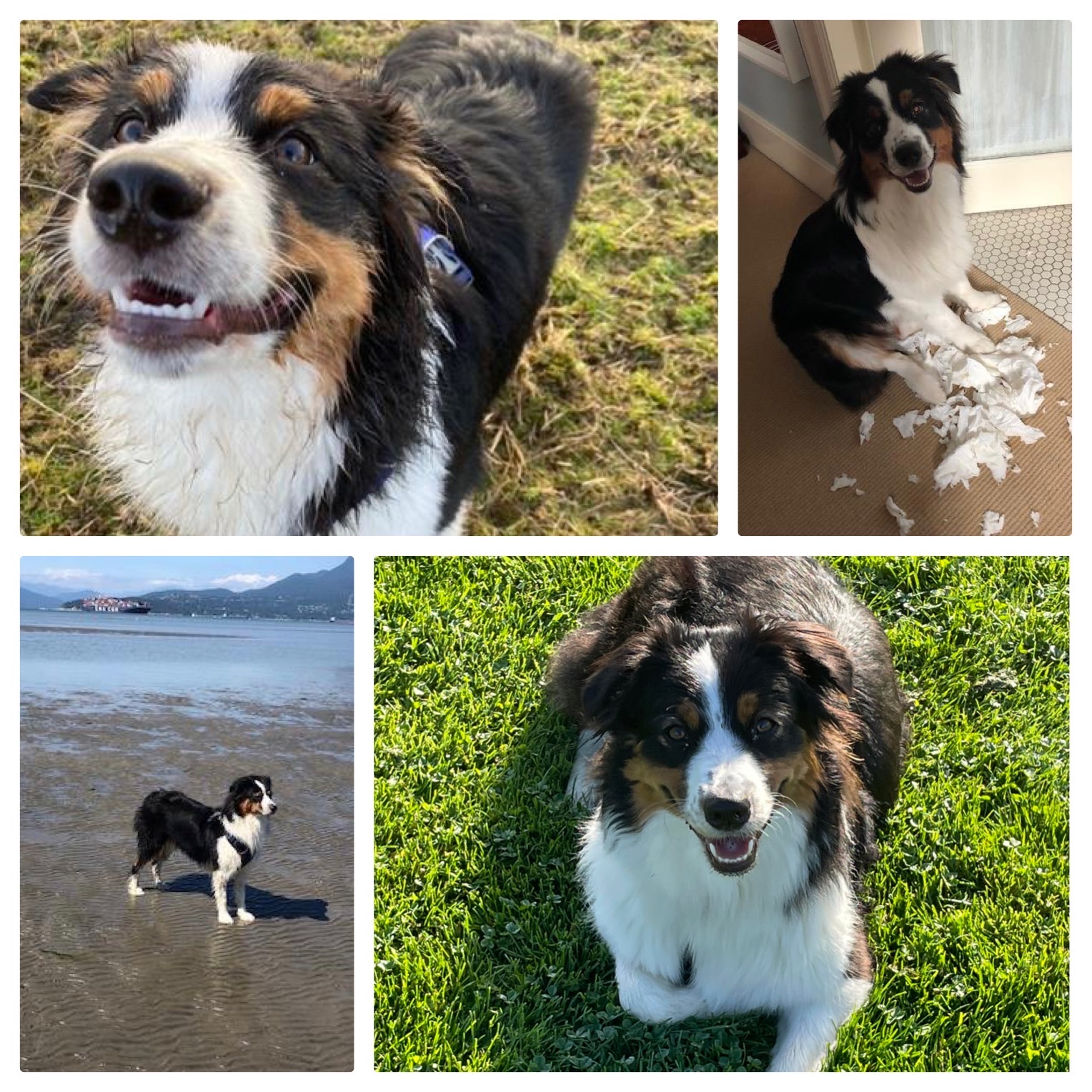 Tessa Levy, Ph.D., pondering the depths of women's book history, poses in various spots around Vancouver. Stay tuned for details on her forthcoming book project with CUP (Canine University Press).